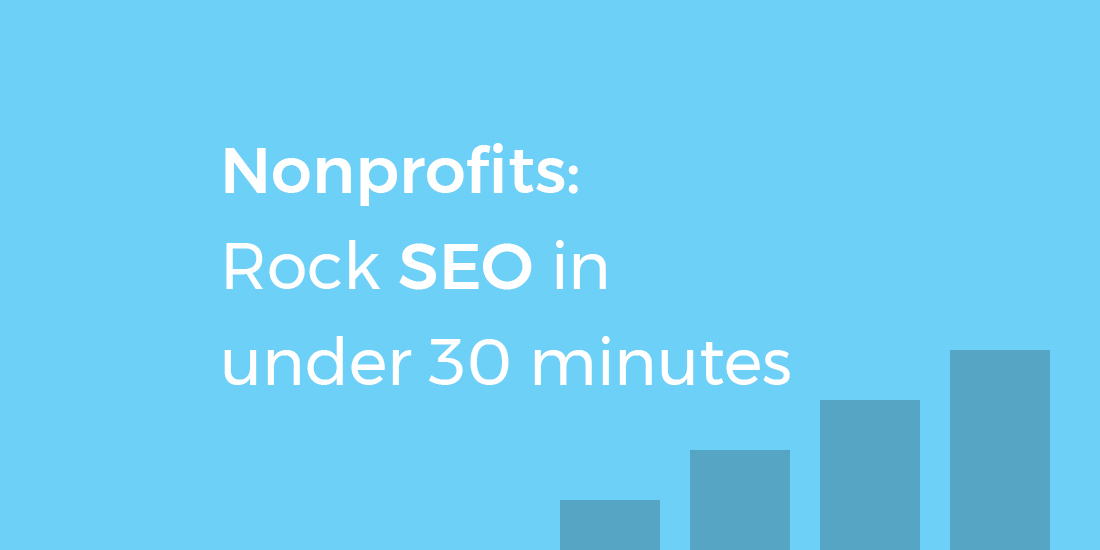 If you're hoping to grow your organization's online presence, you've no doubt heard of search engine optimization (SEO). The complexities of making yourself discoverable online can be technical and intimidating, but the growing trend amongst search engines is to not reward those trying to rank well solely through technical tactics like meta titles, links or guest blogging. The bottom line: serving your customers good, valuable content is the end game for your efforts.
So, where should you begin? Search engines try to deliver the most relevant results to their customers, so they're always adapting their methods for ranking sites. As you may have discovered, there is no shortage of literature dedicated to following the latest SEO trends and reporting on them, which means you could potentially study and adapt best practices endlessly.
You're hoping to grow your organization's online presence, but you don't have the time or desire to spend every waking hour on your search engine optimizing. This list will help clarify a few SEO tips for nonprofits that you can implement in under thirty minutes to improve your ranking on Google, Bing and other search engines.
1. Keyword Research
This is a good first step for nonprofits considering SEO. There are tons of tools to help you identify keywords. Be aware that the research can often take hours and is usually an ongoing process.
You likely use Google (or Bing or Yahoo) multiple times daily, from finding the nearest lunch spot to the latest news about your organization's cause. Ask yourself these three key questions when looking at the results from your search query:
What did I search for?
Now what do I see?
What does this mean for search?
Your answers can help determine how to structure the content you publish, factoring in what you've learned from the results. You can identify which search query yielded the most relevant, quality results and what attributes of the top results enabled their high ranking.
Two big takeaways from this exercise are that a) popular sites rank high, and, b) not-so-popular sites with lots of content rank high.
2. Create quality, relevant content
All your time spent with identifying keywords will be wasted if you don't follow up with stellar content. Create quality, relevant content to make your keyword brainstorming efforts worth it.
You can strengthen your authority and increase traffic by consistently posting shareable, relevant and quality content on a variety of subjects including news related to your cause, partnerships, engaging stories about your stakeholders, and latest fundraising efforts.
3. Optimize Your Post
You now know what you should post about to improve your rank. What next? Optimizing your great content can take a couple of minutes or less. Here is a very easy checklist, created by Salesforce, to help you tackle the most important factors for quick SEO of your content.
Using these simple technical details, you'll allow search engines to crawl your content, understand the focus of your post and then offer the most relevant results to anyone using their search. As an additional tip, if you use WordPress, consider the Yoast Plugin to ensure your content hits all the marks before you publish.
4. Use Google+
Google+, Google's social network, has perhaps a smaller footprint for social chatter, but it's a very relevant platform that organizations ignore at their own risk. Google+ uses how many circles you belong to and your number of followers to improve how your organization appears and ranks in their search results. Posting on Google+ alone won't improve your ranking; however, connecting with thought leaders, other nonprofit organizations, news outlets, and relevant influencers in your sector can improve the chances someone in your network will encounter your organization's content in Google's search results.
5. Consider Other Search Engines
It might be easy to forget sometimes, but Google isn't the only search engine out there. There's a whole slew of other search engines and Yahoo's monthly unique visits are actually almost aligned with Google's! Bing, Ask and DuckDuckGo might account for less traffic, but they still have solid engagement within their user bases.
—
Recognize that search engine optimization is constantly changing, where practice helps but a lot of it will continue to be making educated guesses. There is always something new to learn in the ever-evolving world of SEO. But even small changes like those included here can improve how people discover your organization online.