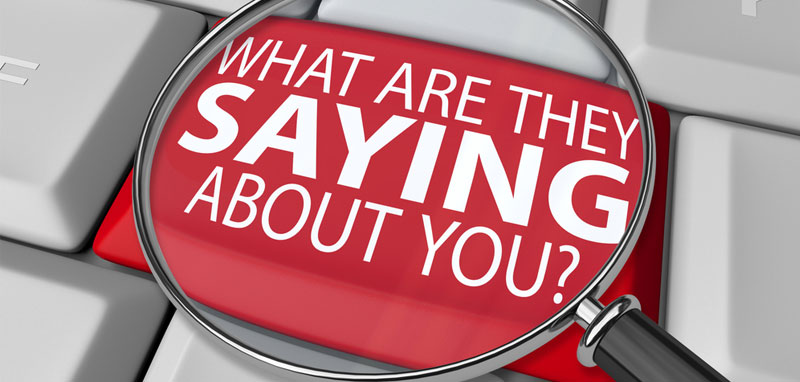 When you are "Googled" what Business Reputation do they see?
Shoppers today check the Internet before they buy. Your online reviews create a reputation which plays a crucial role in your ability to successfully market your business on the Internet.
Stop losing sales due to negative reviews posted against your company.
In a 2012 Nielsen study, they showed that a full 70 percent of consumers regularly put their trust in reviews they read online. Perhaps more important was the fact that a full 72 percent of respondents claimed that a bad review could turn them against a company with which they had already done business with.
That means if one of your customers reads negative reviews posted online against your company, without the use of online reputation management services, you stand a good chance of losing future purchases from that customer.
Your business reputation plays a starring role in your prospects decision to do business with you or not.
How can Online Reputation Management Services Improve Your Sales?
A survey done in June 2012 showed that 86 percent of respondents claimed to have consulted online review sites before deciding on a company to do business with.
Now consider the star rating system. Anyone who has visited the Yelp site knows that its reviewers rate their level of satisfaction from one to five, based on the star system. Other sites like Google are also following this pattern. Studies show that the gain or loss of just one star will result in a five to nine percent increase or decrease in revenue. (Source: Harvard University, September 2011)
Some businesses have actually lost as much as 20 percent in sales following a negative review.
A business usually needs to receive at least 10 five-star reviews before prospects will trust it at all.
You need to keep a look out for reviews being posted about you on Facebook, Twitter and Yelp. In addition, if you rely on local traffic you will also have to monitor Google Plus, Yahoo Local, Google Maps, City Search and Local.com.
What Are They Saying Behind Your Back?
It's crucial to see what others are saying about your business, because if you don't know that you've left a poor impression, you won't be able to take any steps to correct it. Many business owners have difficulty finding the time to do this. That's where our reputation management services come into play.
How We Can Help You
No company that wants to stay healthy can leave itself vulnerable to the unpredictability of the reviews being written about it online. It's absolutely vital for your business to build and defend your online name through proactive online reputation management.
Proactive Online Reputation Management
A business that wants to thrive and survive must take proactive steps to protect its good name through positive online reputation management. That's why it is vital to stack your profile(s) with positive reviews before you get a negative review, as well as deal with negative reviews in a timely fashion. People remember the bad far longer than they do the good.
LEARN MORE SEO FROM YOUR EMAIL
SEO, YouTube, Pinterest and more sent out bi-weekly
Thank you for subscribing.
Something went wrong.