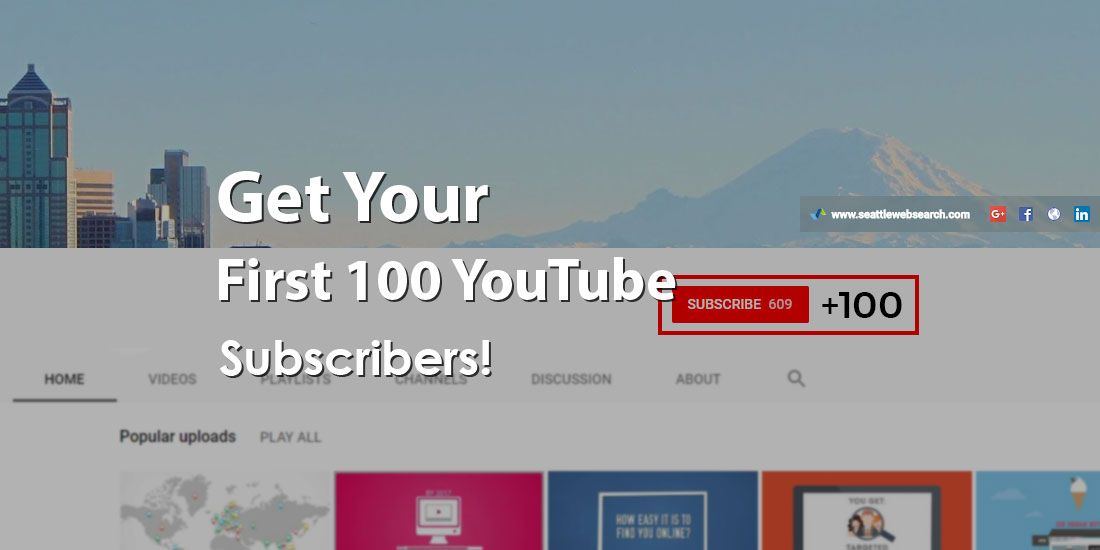 Over the past decade, YouTube has become the virtual window to the world outside of our homes, country, and even our imagination.
Those who wish to create that window have one goal, to keep viewers interested. Gaining 1,000 subscribers to your Youtube channel is nothing short of a milestone and it is an achievement that YouTubers strive for. Unfortunately, for some, the road to this goal has developed into a steep uphill climb.
Getting more people to subscribe to your Youtube channel may seem like a daunting task, but this article will present 10 tips that help you obtain your first 1,000 subscribers.
Title Your YouTube Videos Strategically
Naming your video is probably the most difficult task. After all, first impressions are everything and you only get one shot with most.
If you have a title, but it is too long or complex, refer back to the rule which is to keep it simple and enable the autocomplete to name the video. As long as your title is relevant, there is nothing wrong with having the same name as another popular video on the same topic.
Enhance Your YouTube Channel Design
Your channel and its design fall under that first impression category as well. Think of it as a visual bio about you and what you are all about.
Flaunt your brand through your header. Sell you! Match your design with your brand and tailor it to be yours and only yours for others to see.
Post Useful YouTube Content Consistently
You must first learn to mix creativity with credibility. The myth that seems to exist is that every topic has already been talked about or shown on YouTube and trying to compete would only leave you with scraps or branded as a copycat. Wrong!
You must not be afraid to think outside of the box and add your own creative and original touch to a specific topic. Viewers watch to be brought to a conclusion or a result that will benefit them in some way. It is up to you to present them with a new and unique way of getting them there.
One example can be the millions of "unboxing" tech videos that are out there. What if you created a "reboxing" video that discusses the various components of tech while you put it back in the box?  The key here is to present yourself as creative and original while securing your image as a credible source for people to follow.
Get Happy
You have to be able to laugh at yourself a little bit. If you can't do that in this internet driven world of bloopers and follies you may as well stay away.
It is those candid moments that show your true self and personality, you can't be afraid to show it. You're not looking to sell yourself as an alien you're looking to sell yourself as human. You can also switch up your format and keep your viewers on their toes by being unpredictable.
Make your video like a new present to unwrap.
Create a Unique YouTube Thumbnail
It might seem like a small detail, but those are the details that make all the difference.
Applying an impact font, which is used in various internet photos and ads, can grasp the attention of potential viewers. You can also format your photo using Adobe Photoshop.
It would also be wise for your photo thumbnail to have a different title than your video because when people are scrolling through other videos they can easily tell what your specific video is going to be about.
Choose New Locations
Shooting your videos in different locations and venues will peak the interest of viewers. If you don't or can't travel you might consider changing your background or alter your immediate location in some way. It all goes back to keeping yourself fresh and changing your viewers' expectations.
Create An Engaging YouTube Channel Trailer
Youtube has provided content creators the tools to create a trailer to share what your content is about. This will give viewers a preview of what they will see or if they will be interested.
Keep your trailer under 90 seconds and show scenes from your other videos along with a strong call to action for people to subscribe to your channel. Don't just throw it together. If you put pride and effort into your trailer, viewers will notice and will be proud to reciprocate. Like the song says, "You get what you give".
Utilize YouTube Annotations
Yes, yes, we've all been there and we've all raced to click the 'X' of the dreaded pop-ups during our videos, but to you, as the creator, these can have some use.
Adding annotations to each of your videos with linked subscription buttons makes it easier for the viewer to subscribe to your channel. Don't believe it? Try it once and who knows, you may end up adding them to all of your videos once you see an increase in subscription rates.
Just Ask
Does it seem a little desperate? Sure, but there is nothing wrong with asking viewers to subscribe. This is 'word of mouth', in its basic form. At the end of each video ask viewers to like and subscribe to your channel.
You may also give them a reason to subscribe. For example, if you are a DIY Home Improvement channel you could say, "Subscribe for my DIY projects, tricks and insider tips delivered to you weekly." What's the worst that can happen?
Be You
It's your channel with your ideas, your content, and your creativity. So why would you want to act like someone else? If you think to yourself, "The only person who can be me and do what I do, is me", you won't go wrong.
Show effort and people will keep coming back. You should already know how to work through details with audio, composition, and lighting. Get comfortable on camera and more people will subscribe.
LEARN MORE SEO FROM YOUR EMAIL
SEO, YouTube, Pinterest and more sent out bi-weekly
Thank you for subscribing.
Something went wrong.