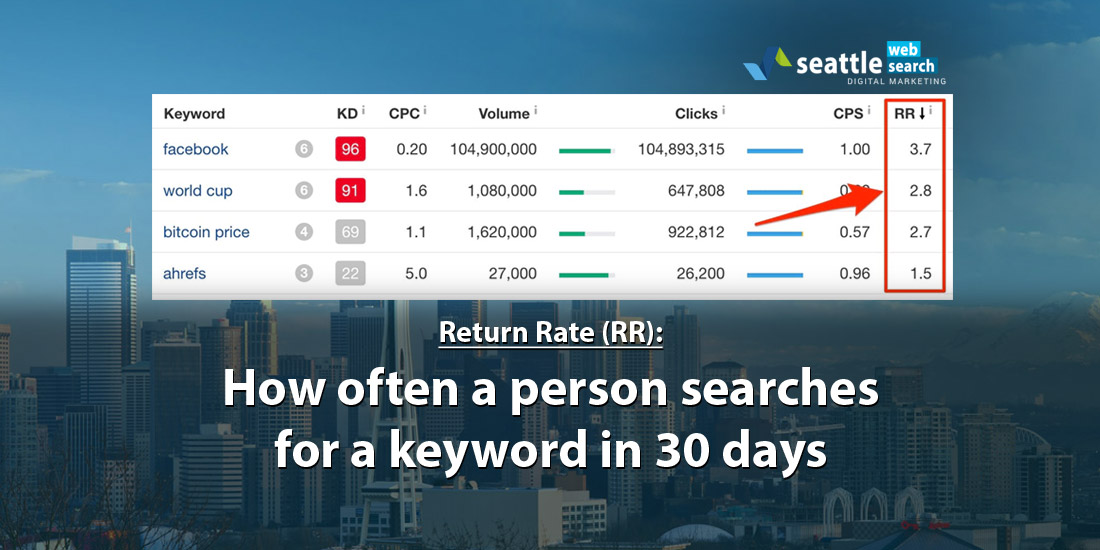 RR1 means that people typically don't search for that keyword again within 30 days.
But RR2 and RR3 don't mean that people search for a given keyword two and three times per month respectively. It just means that the second keyword tends to get more repeated searches than the first one.
Let me illustrate with a few vivid examples:

The keywords "world cup" and "bitcoin price" have Return Rate (RR) of 2.8 and 2.7 respectively, which means that people are doing roughly the same amount of repeated searches for these keywords.
But both searches are lagging behind the keyword "Facebook," which has a super high Return Rate (RR) of 3.7. This is probably because a lot of people search for "Facebook" in Google, rather than typing the URL directly into the search bar.
Are you confused by some of the other
SEO
metrics and abbreviated column headers you see in our keyword reports?
This article is for you.
LEARN MORE SEO FROM YOUR EMAIL
SEO, YouTube, Pinterest and more sent out bi-weekly
Thank you for subscribing.
Something went wrong.