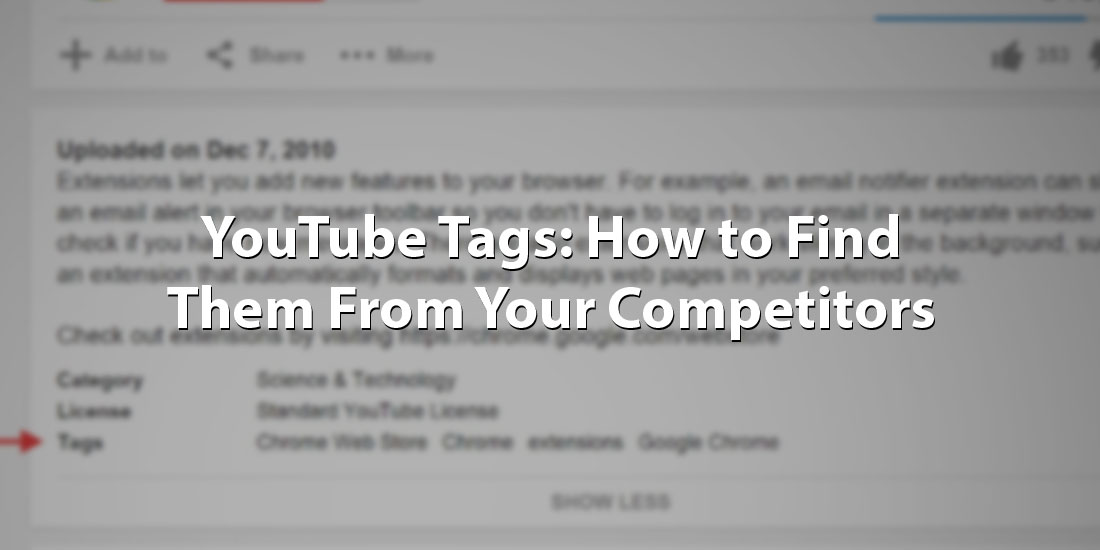 If your company has a YouTube channel, you're probably trying to find ways to make your videos rank higher. One of the ways is utilizing something called tags. Your competitors use tags, some specific, others brand names, in order to help their videos, and their brand get attention.
A good first step is to not give your video files generic names like MOV001.mp4 but instead go with names like insert-your-keyword-phrase-here.mp4. You should also optimize your video's title and description, as well as getting your video transcribed and subtitled.
But you're probably looking at what your competitors are doing, and something you can't easily access are the descriptive tags. These tags help videos get noticed and show up sooner in the search results. But they're hidden from the viewers, so how can you access them?
Finding the YouTube Tags
Go to the YouTube page, using Chrome or Firefox.
Right-click the page, and select View Source
Then hit Ctrl+F and search "keywords" in the source code.
This will show you a list of tags that the creator used on the video. It should look like this: <meta name="keywords" content="tag one, tag two, tag three, etc.">
Don't Copy, Analyze
The point of accessing your competitor's tags isn't to plagiarize them; you want to analyze the patterns in the most successful videos. If all the top-ranked videos use specific tags, it could be helpful for you to use those tags as well. One more tip is to always use your brand name as a tag in your videos. Having common tags will improve the chance that your other videos will show up in the suggested videos column.
In the future, we will be talking about how to add YouTube tags to your videos, as well as other optimization techniques. If you have your own YouTube tag research technique that's worked for you, let us know in the comments!
LEARN MORE SEO FROM YOUR EMAIL
SEO, YouTube, Pinterest and more sent out bi-weekly
Thank you for subscribing.
Something went wrong.