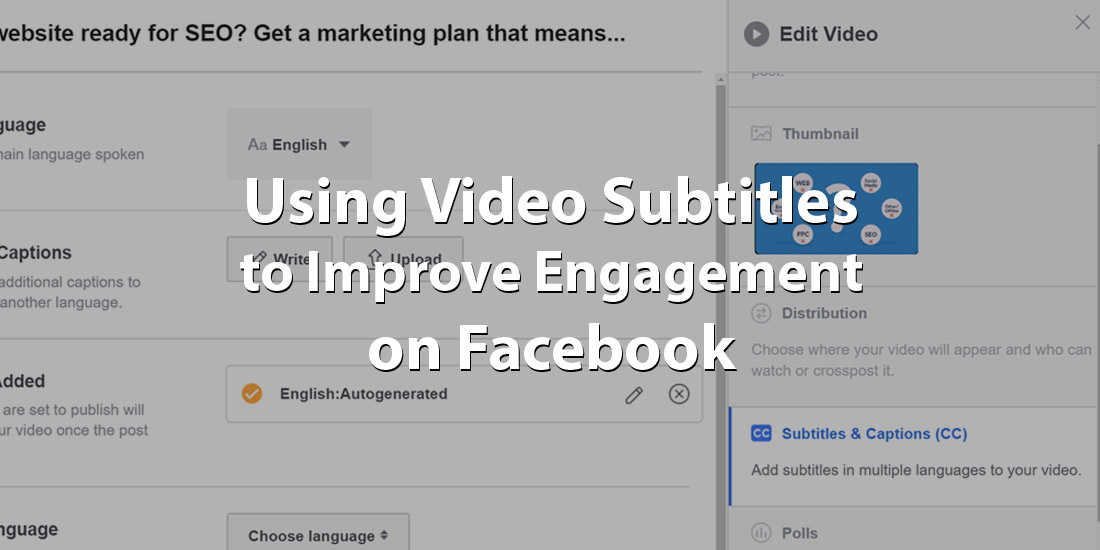 Most people do not use sound when watching videos on Facebook.
Many users opt to leave their volume off or (as the newest feature shows) shut it off when they open the app. In order to continue to send messages to viewers, video subtitles become necessary. Facebook reported that including captions in a video increases the chances of viewing by 12%. While this does not sound large, if you are receiving huge views, those lost views add up quickly.
In other words, it is worth your time to place efforts on creating videos built for the social media needs by using front-loaded segments and large fonts to grab viewer's attention. Many social-born news systems have started using this system.
The most common usage for subtitles assists those with hearing disabilities. Now, closed captions creates assistance as a tool for people who are distracted or time-strapped. It helps people who do not use headphones or cannot unmute. By uploading subtitles, Facebook automatically uses them when a video is muted.
The way to add subtitles for Facebook includes involves creating a SubRip (.SRT) file.
These files basically tell Facebook when and how long to show any captions. The next question must be how one creates closed caption files.
.SRT files need to be created, but a variety of options are available. The easiest method to use is YouTube's Subtitles & CC tool. Find this tool in the Video Manager section and allow users to transcribe, auto-sync, and easily export to .SRT and multiple other formats. You could use the Facebook feature of auto-caption videos, but you need to pay for video ads. Also, it is known to incorrectly transcribe text. Using the feature on YouTube allows for more control over your video and no costs.
Creating Your Own Subtitle:
Upload a video to your personal YouTube account. Set to Private to avoid discovery.
Under Video Manager section. Find video and in the drop-down click "Subtitle & CC." Select language under "Add new subtitle or CC" and select "Transcribe and auto-sync."
Transcribe and auto-sync means you can add your own transcription. Video pauses when you start typing and resumes once you stop.
Once transcription is done, select "Set timings" and allow YouTube to perform its auto-sync function. After its completion, watch the video to check YouTube's syncing and adjust timing in the right-hand column to change timing and replay the impact.
Once you are happy, go to "Actions." Select ".SRT" to download the file.
Add Subtitle to Facebook Video:
.SRT files can still be added to new videos during the process of uploading or to videos that are already live. Select "Edit Video" to find or upload your video on Facebook.
 Select "Upload SRT File" and make sure to name the convention "filename.en_US.srt" Only change the "filename" to describe the file before uploading.
Save your update.
Test video on your own desktop AND mobile to ensure they are formatted correctly.
Further Recommendations:
Optimize viewer experience by keeping the text precise to the audio, limiting text to only one or two lines. Break up wordy sentences to not overwhelm viewers.
Target multiple languages by following what Facebook allows. You can upload many .SRT files to cover multiple languages. Only consider this if it can add value to what you are presenting and if it makes sense for the audience.
Focus efforts on the videos that heavily rely on voice over.
Plan ahead for the future and how people might wish to view your content. Make it all count!
LEARN MORE SEO FROM YOUR EMAIL
SEO, YouTube, Pinterest and more sent out bi-weekly
Thank you for subscribing.
Something went wrong.