Hi Kelly,
Here is your SEO audit for alkidental.com, this is a summary of what Google wants from you:

(See below: things that should be fixed immediately, and can be improved / should be fixed eventually)
Needs be fixed immediately:
Bad Site Speed – Less than 3 seconds is important, less than 2 seconds is ideal (26 seconds is a huge penalty! You are certainly loosing SEO and business with your current site speed)
Why it's important:
This is a little slow and it is likely impacting your search rankings and user experience. High load times can be caused by a number of things, including pages with poor code optimization (cache, Mysql queries, etc.), server problems, network problems, or third-party issues (advertising codes, analytics codes, etc.). Site speed is an important factor for ranking high in Google search results.

Recommendations:
Serve resources from a consistent URL
Enable Keep-Alive
Minimize request size
Leverage browser caching
Optimize images
Defer parsing of JavaScript
Add Expires headers
Make fewer HTTP requests
Use a Content Delivery Network (CDN)
Use cookie-free domains
Should be fixed immediately:
We found 3 broken links on this web page
Why it's important:
Broken links send users to non-existent web pages. They hurt a site's usability and reputation, which impacts SEO. We've found 3 broken links on alkidental.com that need to be fixed. You should take the time to find any broken links on your page to fix or remove them. In the future, keep on the lookout and be proactive about removing dead links.
Fix HTTPS Issues – Your website is SSL secured (HTTPS), but the Common Name is set to Parallels Panel
Why it's important:
Using an SSL certificate creates an encrypted connection between your visitor's browser and your website's server adding an extra layer of security. In 2014, Google announced that HTTPS would become part of their ranking algorithm and since your website is not HTTPS, it will likely rank below your HTTPS competitors.
Your website's URLs do not redirect to HTTPS pages.
Your headers are not properly set up to use HSTS.
Renew your SSL certificate now, it expires 3 years ago
Should be fixed eventually:
Please keep in mind these are all recommendations and can help if you do them, but aren't necessary. If you choose to not do something (example: blogging) you can still have good SEO by doing other things instead.
Develop a keyword research plan
Why it's important:
The most important element of a successful search engine optimization strategy is picking the right keywords to target. Not only will it inform your wider marketing activity, but also trying to rank for the wrong keywords will cost time and money. Accurate research will let you identify the correct opportunities to aim for, and give you plenty of insight into how to achieve them.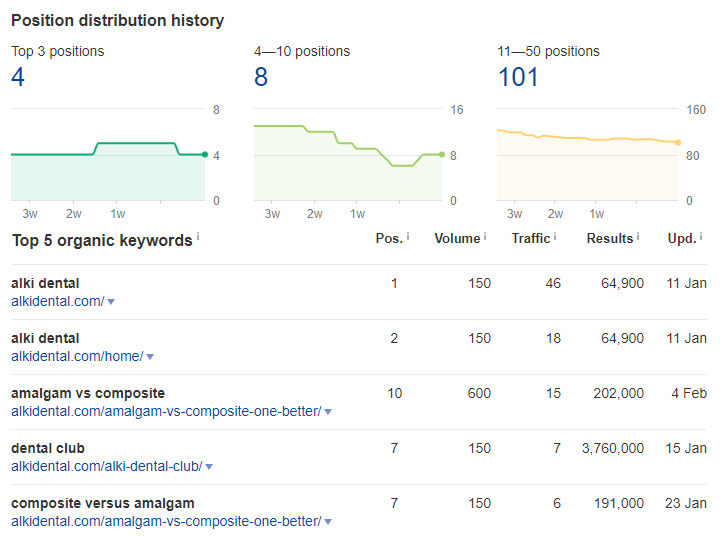 It is important you pick a keyword that you want to rank one at a time and get to within position 1-3 for it (= first page of Google, first 3 results), 70% of people click on the first 3 results for any given search, and 90% of people don't make it to the 2nd page of Google. So until then you wont get much results.
That's why a big part of SEO is knowing what your competition is doing, so you can find keywords and channels (example: YouTube, Facebook, Pinterest, Yelp) that aren't as competitive and are easier to get results.
KEI:
The Keyword Effectiveness Index (KEI) compares the keyword's Daily World Searches* value to the number of Web pages competing for the given keyword. This helps you pinpoint the keywords that are good enough to optimize your website for. Keywords with the highest KEI combine higher popularity and less competition. That means you will have more chances to attain high rankings in case you use these keywords for optimization.
Optimize your site content
Why it's important:
Attempting to rank for all desired keywords with one page of your website is not only impossible, but won't be always relevant and easy to use for your site visitors. Instead, you should develop each unique page and piece of content to target one particular keyword, topic or phrase and use is consistently across all the visible and metadata associated with that URL. Combining that with unique, quality content will give you the highest scores for relevance, and the best chance of achieving prominent search engine rankings.
Develop frequent shareworthy content in your site blog
Why it's important:
Blogs are a great way to publish fresh content on a regular basis to your site, attracting visitors and helping it to rank for your desired keywords. Given the huge rise in business blogging, it's important to make sure you are publishing content that your audience will find useful, attractive and therefore recommend and share. Balance self-promotion with valuable resources for your industry and customers, insights into your business, and content which helps to build the community in your industry.
Backlinks Score Bad
Why it's important:
Backlinks are links that point to your website from other websites. They are like letters of recommendation for your site. Since this factor is crucial to SEO, you should have a strategy to improve the quantity and quality of backlinks. The backlinks score is calculated by looking at a combination of link signals. This includes the overall number of backlinks together with the number of linking domains, as well as rating the overall quality of the backlinks pointing to a website.

Ahrefs ranks websites based on the size and quality of their backlink profile. The website with the strongest backlink profile is ranked #1. Note: if your backlink profile is growing, but Ahrefs Rank is going down – this means that sites next to you are growing at a higher pace.
Facebook page not found
Why it's important:
It's no longer good enough just to have a Facebook page for your business. With every company competing for attention, simply posting generic text updates is not enough to give you the visibility you need to reach out to your audience. Facebook is a vital channel for any business' digital marketing. 72% of consumers expect you to have a presence on Facebook. Use Facebook Insights to measure and track your audience's engagement with your posts to get the most out of your social media efforts. Link your Facebook profile with alkidental.com and add a CTA to really maximize your social media marketing efforts.
Social Media Engagement
Why it's important:
The impact of social media is huge for certain industries, take advantage of this digital version of word-of-mouth marketing.
Make sure you have opened ‪social media profiles on Facebook, Pinterest, LinkedIn, Google+ and other sites that are of interest to your customers.
Learn how to engage your social media audiences and create a consistent fan base. You can also use your website to increase your popularity on social platforms.