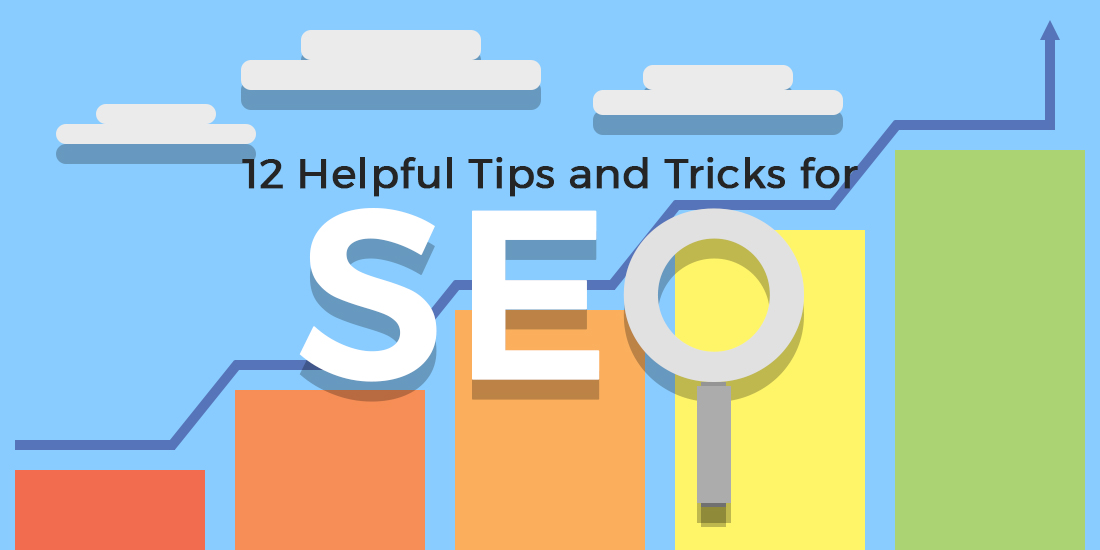 If you run an online business, you may know that about 12 billion web searches occur each month in the US. It goes without saying that in order to achieve visibility, brand recognition, and credibility, you need effective SEO strategies.
This blog will get you started with search engine optimization and give you effective tricks to improve yours quickly.
Let's address SEO trends of 2017 before focusing on the 12 tips and tricks to get you started.
SEO Trends of 2017 include:
Social content
76% of marketers take advantage of social media to support and boost SEO of their content. Search engines, such as Google, index social media content to blend social media and web together for SEO strategies. Profiles on social media appear consistently in search results, therefore it's crucial to use your social content to optimize your page's visibility.
Videos rule
Videos attract and engage your audience, thus increasing the ranks of your page on SERPs.  When your video content contains specific keywords for search engines, it makes finding your video content easier to be indexed and displayed on the search result page.  Videos displayed on SERP like Google, it increases organic traffic from search engines to the website.
Mobile optimization
Thanks to smartphones, mobile searches have increased by 43% year after year. Make sure your website is mobile-friendly since mobile optimization will become the norm, rather than the exception. Colors, fonts, content, logo design and everything else on your site needs to be mobile optimized.
Voice-search function
People will be more multi-tasking and will prefer voice search more than typing. Use long-tail keywords frequently spoken than conventional keywords to make sure your content is easily searchable.
Content aggregation
Content aggregation is proactive and very selective in its approach to finding, organizing, and displaying content within a predefined set of criteria to appeal to your target audience.  Build your authority by collecting and curating content from different, high-authority sources and by displaying it at one place. Presently, 85% of Google search results comprise of many content aggregators and rich media like maps, news, social media, Amazon and Yelp.
Mobile apps craze
Users have spent 89%  of their mobile media time using mobile apps and account for 52% of all time spent on online digital media, which is why more businesses are using them. When creating an app for your business, include the brand name in the app name as well as have proper links to apps for better search rankings.  App optimization should top the list of your SEO optimization.
Local SEO
Local SEO will increase your visibility within the area you're located and display your company's relevance and services. Place the business name, address, and other information on Google, Yahoo, and Bing.
12 SEO Tricks for ranking higher in Google
1. Killer user experience
There's a bilateral relationship between SEO and user experience (UX). In order to have good SEO, you must also have good UX since users are major influences. Having great SEO means you have a functional site with great content, logical site navigation, relevant keywords, and quality backlinks for a trustworthy and beneficial user experience. By improving user experience, your upgrading your SEO.
2. Page titles
Title tags are important since they're highly noticeable on your page and for search engine results. Therefore, include unique title tags for every page that's descriptive and enticing.
3. Attractive Meta descriptions
Meta description needs to be descriptive to attract users to your page. Other pages are competing with yours in search engine results, thus having attractive meta description can give you the advantage over the competition.
ALT tags add text description for every image on your website. Most content management systems have made it simple to add them in order to help optimize your pages.  Carefully select keywords for humans instead of search engines since they're also important for sharing on social media.
5. Reduce bounce rate
A "bounce" occurs when someone visits your site but leaves without clicking on anything. Most blogs have a bounce rate of 80%  with a rate less than 50% being ideal. To reduce your bounce rate, including interactive content and pages that are easy to read.
6. Link your web pages
There are three kinds of links: Inbound, External and Internal. Inbound links are placed on other sites and redirect their visitors to your site while external links are placed on your site and redirect your visitors to another site. Internal links are within your website and redirect visitors to other pages on your site. It's beneficial to add a few external links that are relevant and respected to content-heavy pages on your site. For internal links, including links to your blog posts on your About page and engaging content.
To help build inbound links, create amazing content that's appealing to others who may feel the need to share your work. Other ways include publishing a report based on research you conducted, guest posting, and traditional business listings on Yelp, your local Chamber of Commerce and trade organizations.
7. Keywords in filenames
Help readers and search engines understand what your files are about by using descriptive keywords. Remember: good UX = good SEO. Use one or two keywords instead of "keyword stuff" your filenames.  For example, TranslationGuide.pdf versus TranslationGuide_BuyTranslations_TranslationServices.pdf. The former is ideally a good file name while the latter is noticeably overstuffed with keywords.
Avoid underscores to separate words since search engines see them as letters. Instead, use hyphens since search engines see them as spaces.
8. Upgrade keyword research
Keyword research is an old SEO tactic and needs to be upgraded.
Google Keyword Planner helps identify your essential keywords and places them where they make sense. Be flexible: use plural forms instead of singular and vice-versa, change verb tenses and word order, use synonyms. This is known as latent-semantic indexing for search engines to associate differing terms, making it a type of keyword flexibility.
9. Coherent content
Since your target audience are humans and not robots, your content needs to be easy to read.  This can be doable by writing short paragraphs, using sub-headers, using bullet points, including images within the written content, and adding quotes.
10. Social media
Sharing your content on social media is a way to gain more attention and increase the chances of attracting links from other sites. Social-sharing buttons are important for SEO with the increase in people using social media platforms on a daily basis.
11. Increase written content
The downside of the content-marketing boom is the presence of lousy content. Creating more content is beneficial only if it's high-quality because it leads to an increase in traffic and SEO. Low-quality content is much worse than having a ton of content that's rock-solid.
12. Register site with Google webmaster tools
By not registering with Google, some people believe you can hide things from them, but still climb to the top of the search results. However, Google still knows everything they need from your website with or without registering with their webmaster tools.
Got any cool SEO tips you would like us to add to the list? Leave us a comment and we'll look at adding them to the list!
LEARN MORE SEO FROM YOUR EMAIL
SEO, YouTube, Pinterest and more sent out bi-weekly
Thank you for subscribing.
Something went wrong.