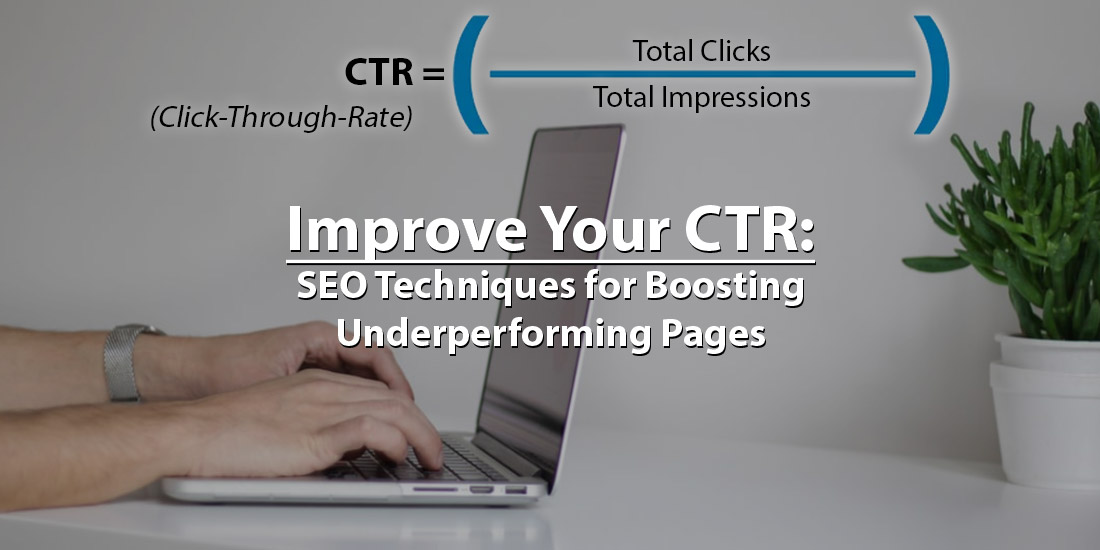 Learning what SEO is and how it helps your rankings online is hard enough in itself. When you get past that and try to learn how to use it with your own website, that is even tougher. SEO techniques lists are generally…well pretty general. Here, the elements of SEO are unfolded, and the enigma is left behind.
#1 Improve Your Titles and Descriptions to Boost Your Click Through Rate (CTR)
SEO is more complicated than just worrying about your ranking.
Even if your rank #1 for a keyword, if your click-through rate (CTR) is low, you won't get as much traffic as your rank deserves.
That's why it's important to optimize for clicks. But how?
Two main things affect your click-through rate (CTR):
Title tag
Meta description
This is what shows up on the feed in your search results:

You should think of your own habits when searching online (ie. search intent)
Your behavior is likely to be similar to other internet users and this can create opportunities to align your title and meta description optimizations with potential search intent.
How do you demonstrate a clear benefit (ie. value proposition)? In other words, what differentiates you from the competition/makes you unique?
And furthermore, who will be searching for the desired keyword?
Desired keyword example: "seattle electrician"
Who will be searching:
Answer: Other electricians.
Why: You don't need to add the location "seattle" to your search phrase, Google will automatically serve you electricians nearby. Your potential audience is more likely to search for "electrician near me", "hire an electrician", etc.
Your potential audience might also search for the type of service they need (example: residential electrician, commercial electrician) or the individual service itself (example: panel upgrade, recessed lighting, etc).
Clearly stating a unique selling point and coordinating it with high attention searches will boost your click-through-rate (CTR)
Click To Tweet
Sometimes people just won't click on your site in the search results. And therein lies the opportunity:
Find the keywords for which you rank on the first page
Look for ones that have a low 

CTR

Improve the title tags and descriptions of the associated pages
#2 Drive traffic/SEO to underperforming pages with internal links
Internal links are backlinks from other pages on the same website.
They are important because they aid the flow of "authority" around your website. Internal link anchors (the clickable words) influence Google rankings/SEO also.
Here is what a good internal linking structure should look like: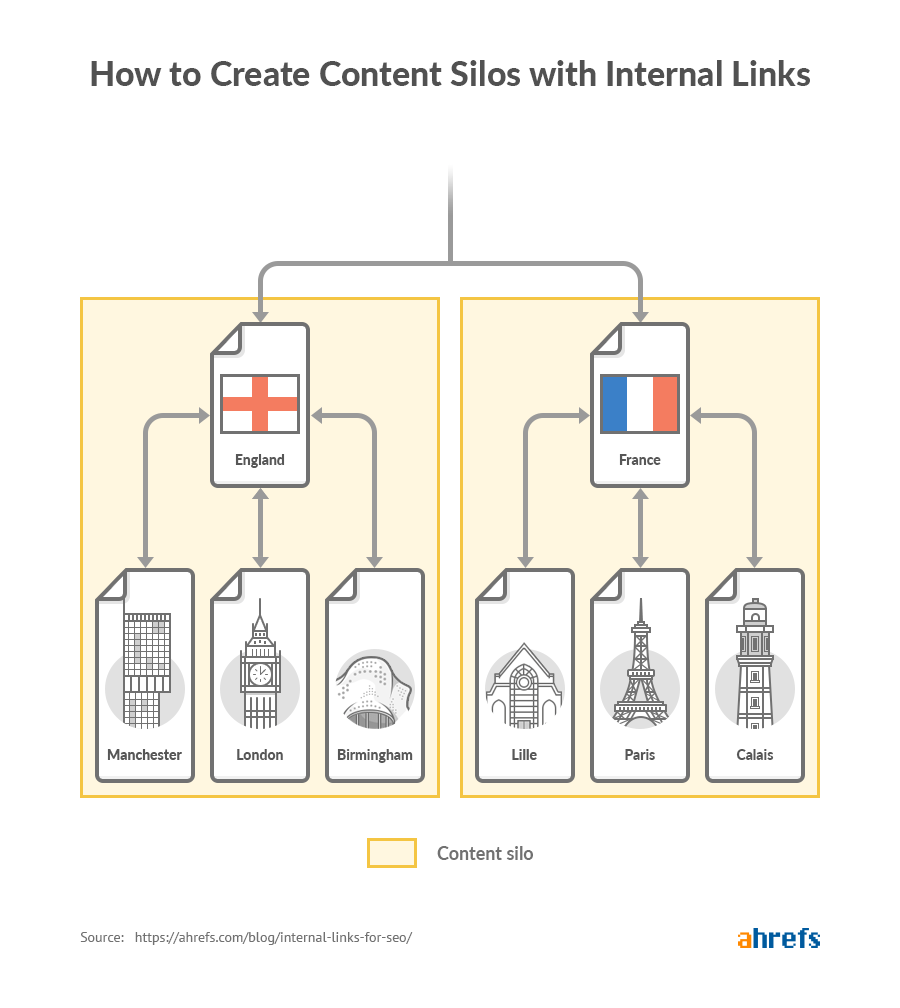 Find suitable underperforming pages to boost
The page ranking above you should have:
Similar search intent: If you're trying to rank a blog post, then it's best if the page above you is also a blog post, not a product page.
Roughly the same 

URL

 Rating (

UR

): 

URL

 rating is a metric indicating the "authority" of the page. If the page ranking above you has a drastically higher

UR

 score, then you may need to point a lot of powerful internal links at your page to outrank it.
NOTE. Looking at the relative UR of top-ranking pages is a useful gauge by which to judge opportunity. But it's not definitive. There are many reasons why a page could be ranking higher than yours (better on-page SEO, etc.)
Find relevant places from which to add internal links to the target page
Google site: search
Go to Google and search for site:yourdomain.com "topic of the page you want to boost"
In this case, we could search for site:ahrefs.com/blog "seo basics"
This finds all the pages on your site that mention the phrase somewhere in the copy. In other words, contextual internal linking opportunities.
Here's a page that mentions the phrase "basic SEO":

Looks like this would be a good place from which to add an internal link to our guide.
If you don't have any content to link internally too, linking out to other sites that have authority and more sustained traffic can help with your credibility.
#3 Refresh existing content
Sometimes content that used to perform well in the search engines ceases to do so.
Content Gaps are a missed opportunity for more (and new) keywords
Research your competitors content to find gaps in your own.
[example coming soon!]
Google is an algorithm. They look at the content on your page to understand what it's about. By talking about things related to your primary topic, you effectively increase Google's confidence in what the page is about.
Recycling old posts by adding new keywords is a classic SEO technique
To increase the effectiveness of your SEO efforts and boost your search engine traffic, you can just update your old content and give yourself an improved freshness score. When you tell Google your content is new, you'll get a spike in traffic that will make the tiny amount of work required well worth it.
It takes less work and delivers faster results.
This illustration from Moz shows how your original content gradually becomes less and less "fresh," which is one of the factors Google uses to determine the quality of your site.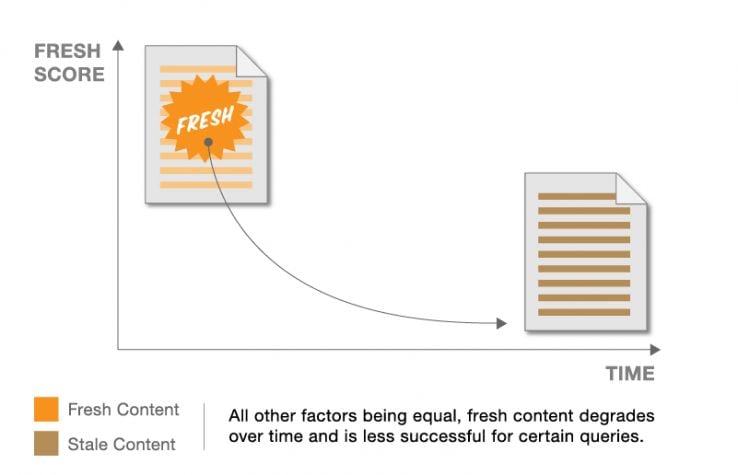 Don't let your old work go to waste.
To start, create compelling new content to add on top of your old articles. Include new resources, clean up any broken links on your site, and include multimedia. You should also work to improve the accuracy of your content and make sure it's up to date with the most recent and critical information.
LEARN MORE SEO FROM YOUR EMAIL
SEO, YouTube, Pinterest and more sent out bi-weekly
Thank you for subscribing.
Something went wrong.