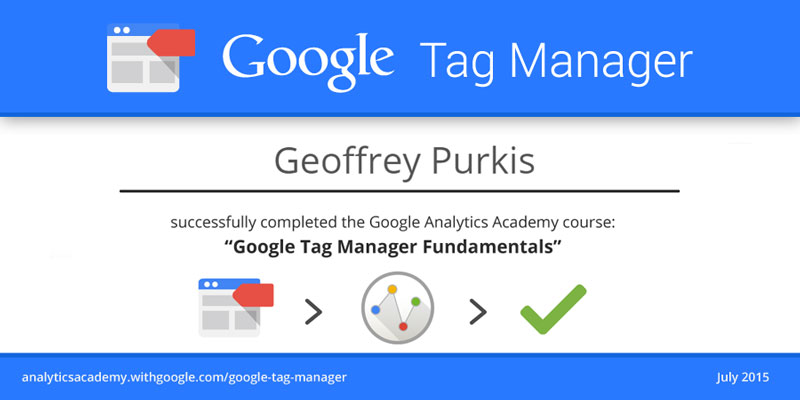 Learn how to use Google Tag Manager to improve your Analytics tag implementation. Register for this Analytics Academy course now..
July 24 is only coming up: Last day to complete the course and get a certificate.
In an effort to help digital marketers become more data savvy, Google launched the Analytics Academy in October of last year. The first course Google offered attracted 145,000 students. with more than 30,000 earning a certificate of completion.
Google recently announced they're launching the next course in the Analytics Academy, called "Google Tag Manager Fundamentals". Their next course is an in-depth look into how Google Tag Manager collects, transforms and organizes data.
Learn Why Webmasters and IT love Google Tag Manager
Google includes a brief video explaining more about the course and how it's run, which you can see here:
Google Tag Manager Fundamentals is designed to help marketers and web developers use Tag Manager to better manage their site tags and send valuable marketing and user behavior data to applications like Google Analytics. You can sign up here. Registration is completely free, all you need is a Google account. They also have you fill out an extremely brief survey that shouldn't take longer than a minute.
A basic understanding of Google Analytics will help you understand the Tag Manager features as well as the examples included in the course. If you have not done so, we recommend completing Digital Analytics Fundamentals prior to taking this course.
Dozens of companies have already begun using Google Tag Manager and have seen great results.
It's time to start learning in Google Tag Manager Fundamentals! Need help getting started? Feel free to contact us with questions, we're certified![clickToTweet tweet="Tag Implementation: We're Certified at Google Analytics Academy" quote="Tag Implementation: We're Certified at Google Analytics Academy"]
LEARN MORE SEO FROM YOUR EMAIL
SEO, YouTube, Pinterest and more sent out bi-weekly
Thank you for subscribing.
Something went wrong.