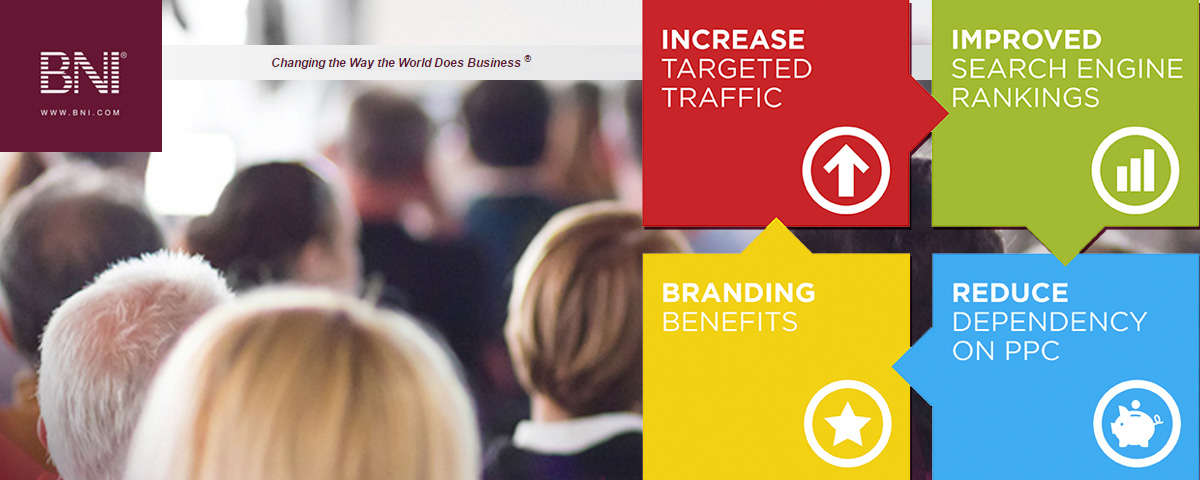 During this FREE Workshop we learned:
What is SEO and how can you maximize your BNI Membership?

I have been a member of BNI since 2012 and I am now at BNI Sound Business Leaders. During that time I have learned many skills, and I think it would be useful for anyone running their own business. Since 1985 BNI referrals have generated $51 billion in business worldwide.

To maximize your BNI membership, you need to develop relationships with other members. SEO can help you to do this online and reinforce the in person networking and word of mouth marketing that you receive from a BNI membership.

Belonging to BNI is like having dozens of sales people working for you… make the most of it by using SEO to increase your business online.

Help your BNI members build credibility and it will help you receive more referral business.

How does this work? It builds your network and helps you to grow partnerships with local businesses, connect with other professionals and improve the ROI for your membership. The philosophy of BNI is built upon the idea of "Givers Gain".

Give (referrals) and you shall receive. As with any organization, those who actively participate and offer leads to others are the ones who see the most benefit from their membership.
One way to do this is through Search Engine Optimization, SEO has a certain "passive" appeal to it, you can support your BNI members as you sleep. SEO provides a clear edge to small businesses over their competitors in terms of visibility, brand awareness, social media exposure, high ranking and positive goodwill.

Sometimes it's just nice to share a good review!

When we have close personal contacts who have provided testimonials for a local business, we hold their experiences and feedback at a higher level than an individual we don't know personally. Before people want to purchase your product or service, they may want the comfort of knowing what others have said about you.

Testimonials increase our business because they provide more credibility than a marketing message. In many cases testimonials can help clinch a job for you. That is a lot of weight riding on someone else's words about you and your services.

If I give you reviews, you'll give me reviews and we'll both benefit as a result.

We've been seeing a massive shift in what it means to be effective on social media over the last few years. One challenge that marketers are facing in this new era of social media marketing is connecting with audiences on an individual and personal level.

Engage with BNI on social media and watch your chapter grow.
Connecting with your BNI members helps to humanize your brand and build online relationships. Leverage your BNI members contact spheres and help members increase their online business through social media networking.

The reality is social media is changing the way we communicate and especially the way products and services are promoted and advertised. It's here to stay and you are missing a huge opportunity if you don't use the communication vehicles that millions of people are paying attention to every day.

"Social media is not just an activity; it is an investment of valuable time and resources. Surround yourself with people who not just support you and stay with you, but inform your thinking about ways to WOW your online presence." – Sean Gardner – writer for the Huffington Post, @2morrowknight
Would you like to expand your professional network, grow your business, develop your networking skills, and create lasting personal relationships?
Join our BNI group on Tuesday at the Swedish Cultural Center, our Chapter Passed $2,659,436 in the past 12 months and we have open categories for individuals who will bring enthusiasm and integrity to our meeting!
Just one person per professional specialty is allowed in each chapter so you should search through our members here to see if your category is open, then visit a meeting and lock out your competition.
For more SEO related events, check out our Facebook page to see our upcoming event schedule.[clickToTweet tweet="Maximize SEO Benefits of Your BNI Membership" quote="Maximize SEO Benefits of Your BNI Membership"]
We also host a monthly webinar helping any 503(c)(3) setup Google Grants, apply it to their nonprofit marketing, and optimize it to get on the first page of Google.
LEARN MORE SEO FROM YOUR EMAIL
SEO, YouTube, Pinterest and more sent out bi-weekly
Thank you for subscribing.
Something went wrong.