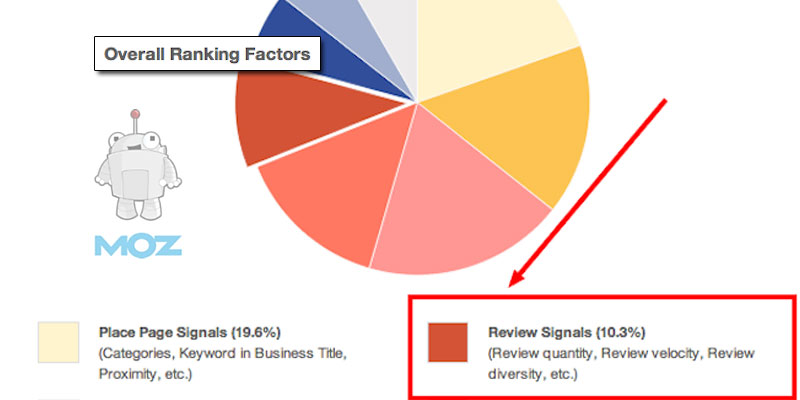 Learn how in this guest post by Reputation Marketing expert Chris Lollini…
As a small business, we all know how effective word of mouth marketing is to grow our business. Not only is it the cheapest form of marketing, but it also generates leads that are the warm and very likely to buy. So how do we leverage this age old marketing to grow our business and boost our SEO rankings? Well, I'm glad you asked!
See, online review sites like Google, Yelp, and Facebook are really the new digital form of good old fashion word of mouth marketing. With 92% of consumers reading online reviews before make a purchase with a local business it is imperative that you business not just have a great reputation in the community, it also needs to have a good reputation online. And with 80% of consumers stating that they trust online reviews as much as a recommendation from a family or friend (according to BrightLocal's 2014 Local Consumer Review Survey) you simply can't ignore their power to influence a buying decision.
But not just the consumer is taking notice — the search engines are as well. Search engines like Google, Bing, and Yahoo! seek to provide the most relevant results to their customers. If a customer is searching for a local business they want to give them the best results positive so that they keep using their search engine to find stuff. So how do that do that? Well they show you the highest rated, most reviews businesses of course. Because a business with a high star rating and many reviews is one that people love — and they think you will too.
I mean it only makes sense that highly reviewed and high rated businesses would appear high in local search results as the best choices to fulfill your local buying needs. Whether it is a restaurant, mechanic, or dentist, search engines like Google, Bing, and Yahoo! have recognized that the majority of buyers are looking at reviews when they make a decision. And if it is important to the consumer than it is critical to the search engine to give their users what they are looking for: reviews.
How Search Engines Look at Your Customer Reviews
The local search marketing authority, MOZ, did some extensive research into how important reviews really are for SEO.  What they found was that review signals rank as high as fifth on local search engine ranking factors — fifth! So out of all the factors influencing your local search rankings, your business's online customer reviews were highly regarded, ranking just after My Business, NAP/Citation, On-Page Signals, and Link Signals in importance – all online factors that are largely in your control.
In the past two years Google has greatly increased the ranking power of customer reviews. They often are the most visually prominent part of the search engine results pages, putting them front and center in the carousel and showing snippets of reviews on search engine results pages. Getting your online reputation to pop out pop of the page with a high star rating and numerous reviews to support it in search engine results helps click-through rates…and you can only imagine how much Google loves more clicks and more user engagement.
Increasing your online reviews and ratings is integral to the health and growth of your small business.
Word-of-mouth has transformed from a singular conversation with a friend to the ability to ask literally thousands of people at a few clicks of the mouse. You can spend big bucks on developing your marketing message and buying advertising but thrifty internet-savvy buyers trust customer reviews much more than any eye-catching ad copy you can produce.
The more positive customer reviews your business has online, the greater you will be able influence both the consumer's buying decisions and search engine rankings. How quickly you're able to get collect these reviews (velocity) over time also shows how highly trust-worthy your business is and is a good indication of how naturally those reviews were collected. Both consumers and customers see your ability to impress the customer enough to post a positive reviews as a good indication of the quality of your business, and its service or product.
Why Use Customer Reviews in your SEO
There are a few other factors that make up your review signal, but let's focus on the ones you can do something about. Here is what you can do to get your online customers review working hard for you and your business by making them part of your SEO strategy:
Actively Gather Feedback and Promote Your Best Reviews
Manage your online reputation by being proactive. You need to know what customers think about your business before they get online and post a review. You do this by proactively seeking feedback from customers in your business regularly. When you know what your customers have to say about your business you are able to resolve issues quickly and create the opportunity to encourage happy customers to post their positive experiences on the business profiles that matter the most to your business.
Customer reviews have a direct impact on local search results, and knowing what you can do to get more and better customer reviews in the right place online means you have a powerful advantage over your competitors.
When you can collect and post more five-star reviews than your competitors as well as have those ratings pop out on search engine results pages you become the clear winner in the battle for the consumers' dollars![clickToTweet tweet="How Important Are Online Customer Reviews for SEO?" quote="How Important Are Online Customer Reviews for SEO?"]
LEARN MORE SEO FROM YOUR EMAIL
SEO, YouTube, Pinterest and more sent out bi-weekly
Thank you for subscribing.
Something went wrong.