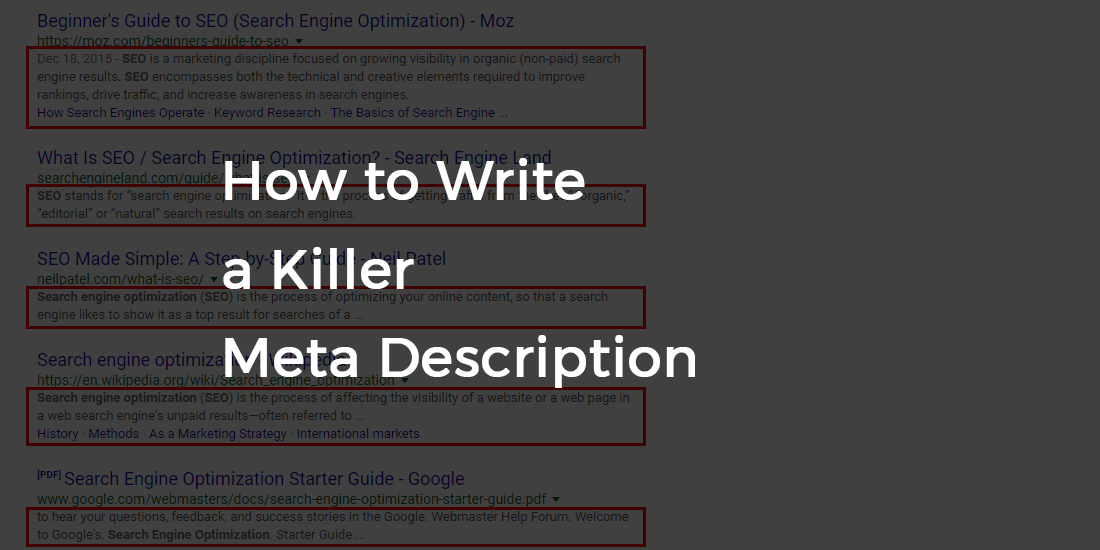 How to Write a Killer Meta Description
Meta descriptions play a key role in improving clicking rates from search engine result pages. Studies have shown that maintaining above-expected click-through ratings can increase organic rankings.
Therefore, making meta descriptions relevant to related searches will indirectly help your website gain search rankings.
Meta Description: what is it?
Meta descriptions appear underneath the URL of websites in search engine results and provides users with an idea of what your website will be. It may be a tedious task, but it's worth it for marketers.
Writing a Meta Description
There are five factors to consider when creating a meta description: the length, the unique tags, a marketing message, a clear call to action, and relevant keywords.
The length of a meta description should be 160 characters at the most, therefore be concise and include a direct marketing message. Since it's a marketing message for every page it's related to, it must highlight the unique purpose of each page and shouldn't be duplicated. The marketing message communicates the value you'll give the user by explaining what they'll find on your website. Including a clear call to action will elicit the response you want by eliminating the need to load the website for contact information. Lastly, incorporating keywords will entice users to click on your website after Google highlights the terms that closely match the query. Be sure the keywords you use are present within the content of your website and encourage the searchers to click on link.
Improving CTR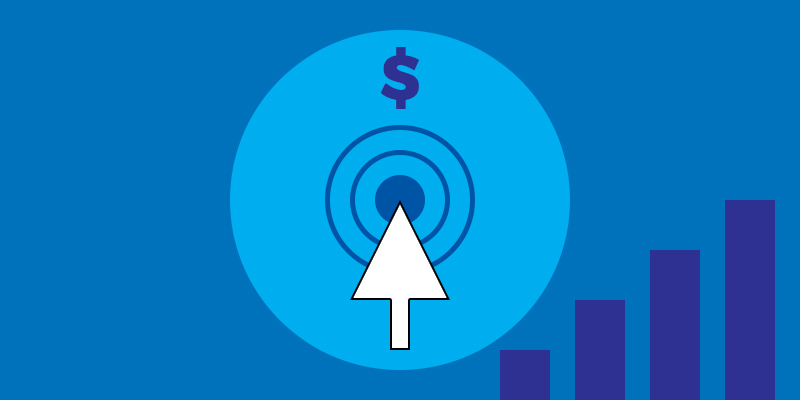 This is the ultimate reason why marketers should make time creating meta descriptions. One way to increase CTR is combining keywords containing emotional triggers or calls to action in order to create eye catching descriptions. Studies have shown emotions, especially anger, disgust, affirmation and fear, increase click-through rates.
Social sharing
Sharing a page on Facebook appears as an open graph markup on your website. The meta description is used as the default description within the link being shared on social media if you don't have a open graph markup.
Majority of open graph plugins auto fill the 'og:description' field with your meta description. Adding Open Graph tags and Twitter Cards to your website can help change your description for sharing on social media platforms.
Avoid Gibberish
Not including a meta description on your page enables Google to grab the most relevant copy they can find and display it as your website's description, leading to suboptimal CTRs. Pages containing low word count, for instance video pages, Google takes the first piece of coding it finds on the page and displays it as the page's meta description. If pages on your website have limited text, it's best to add meta descriptions for these pages to increase organic CTRs.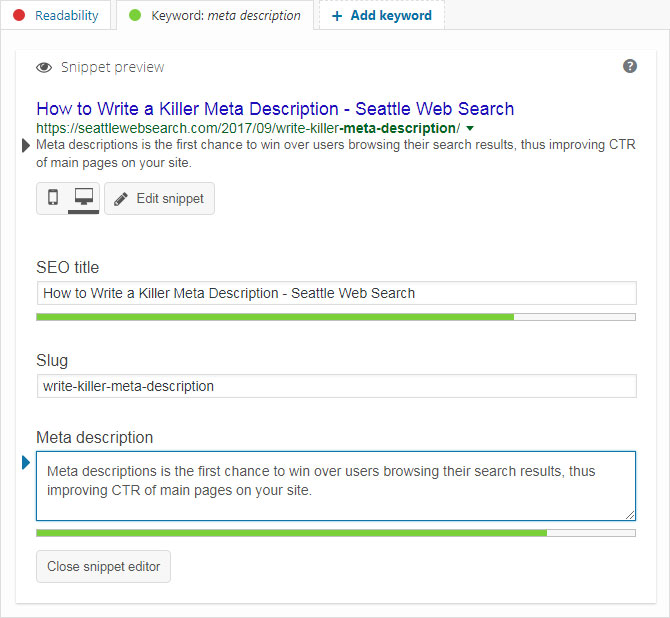 How to Change Your Meta Description
Each page needs its own unique meta description, otherwise Google will make one for you from the information it pulls from the page content if you don't write your own.
WordPress SEO plugins can easily create or change your meta descriptions. If your website has CMS, then placing meta descriptions on pages is easy, however you'll need to use the description tag if it doesn't have CMS.
Meta descriptions is the first chance to win over users browsing their search results, thus improving CTR of main pages on your site. Consider them as brief sales pitches for each service on your website.
Don't disregard using meta descriptions because they'll help improve your click-through rates to key areas on your site. [clickToTweet tweet="How to Write a Killer Meta Description" quote="How to Write a Killer Meta Description"]
LEARN MORE SEO FROM YOUR EMAIL
SEO, YouTube, Pinterest and more sent out bi-weekly
Thank you for subscribing.
Something went wrong.