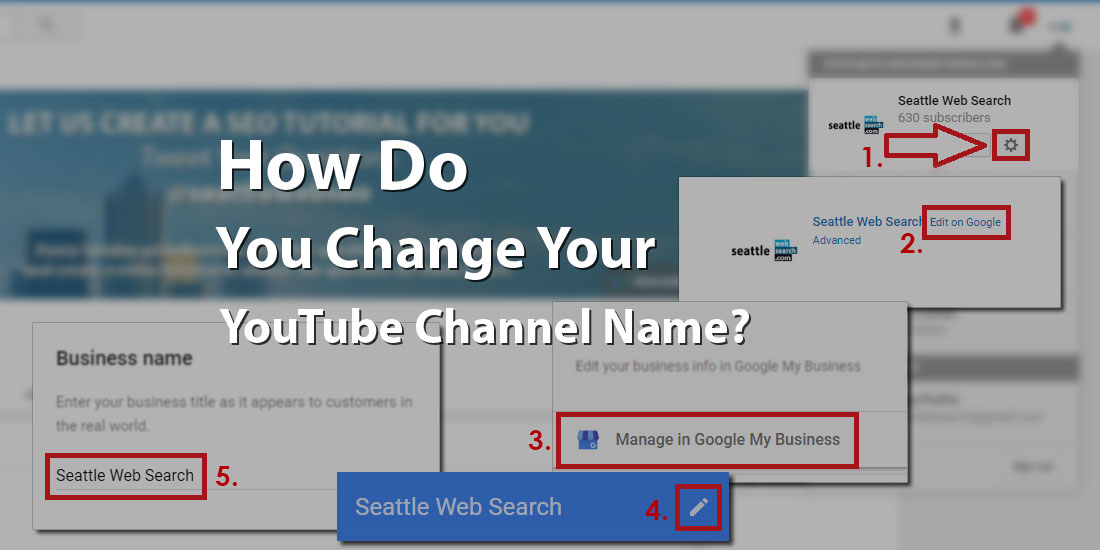 Tired of your YouTube Channel name?
Or want to update your channel's URL?
Changing YouTube Channel Name:
The URL of your YouTube channel may be permanent, but you can change how the name appears on the YouTube page.
First, go to YouTube Account Settings -> Overview. From there, click on "Edit on Google+" by your name.
This takes you to the place on Google+ that allows you to edit the name. The name on your Google+ page will be the same name appearing on your YouTube channel.
Custom URLs For New Channels:
If you've just created your YouTube channel, then you probably haven't created a URL yet. To do so, go to "Account Settings" on YouTube and scroll down to "Advanced."
Underneath the tab, you'll need to click on "Create Custom URL" to set up your permanent URL.  Carefully select the name, spelling and choices of upper-case/lower-case letters.
Vanity URLs:

A Vanity URL is specifically branded for marketing purposes. They're meant to help users remember and find a specific page on a website, therefore it must be easy to remember.
You can even create a Vanity URL that points to your old URL or masks it. If you need to, you can request a YouTube vanity URL using this page.
Avoid using URLs that are already used by someone else. However, YouTube does reserve the right to not grant requests for vanity URLs.
Other options:
If your audience isn't at the number you hoped it'd be, you may try creating a new channel and inform viewers you're moving.
When it comes to SEO, custom YouTube URLs don't matter, however if you want to include the URL on your business card, create a URL forwarding users to your YouTube channel.
How Do You Change Your YouTube Channel Name?
Click To Tweet
LEARN MORE SEO FROM YOUR EMAIL
SEO, YouTube, Pinterest and more sent out bi-weekly
Thank you for subscribing.
Something went wrong.