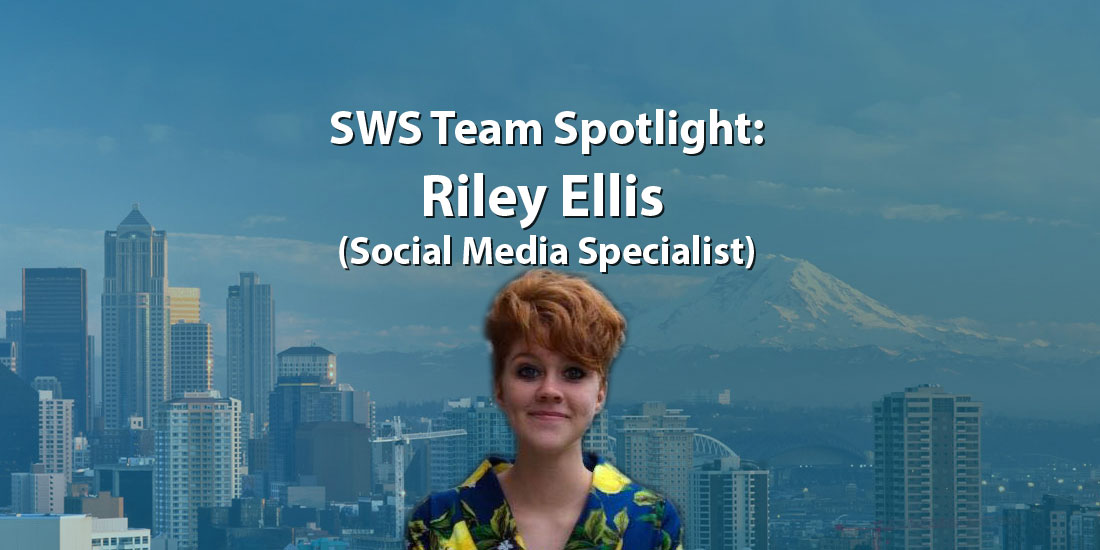 Next in the spotlight is our Social Media team's supervisor, Riley Ellis!
Question #1: How long have you been the Social Media Supervisor?
Since December
Question #2: How did the transition from intern to supervisor go?
It wasn't too bad since the previous supervisor trained me and everything.
Question #3: What made you want to apply to SWS?
I'm trying to get into editing and publishing and social media is a huge part of that. Thought that it would be good work experience learning how to promote and market on social media.
Question #4: Why do you want to work in publishing?
I'm a huge reader. I love novels and I think literature can change the mindset of the reader and so editing and publishing have always been a huge passion of mine. Ever since I was little I knew that I wanted to edit books to help convey the messages better or authors and just like being able to work with that kind of talent.
Question #5: What does a typical day look like/how did it go from intern to supervisor?
As an intern, we worked primarily with Facebook. I started out on Twitter a little bit but then we completely shifted to Facebook. I created images using quotes and I would schedule those out and post them. We would work on client promotions, sharing and promoting them. As a supervisor, I'm able to interview and hire people like candidates for the team and also deal with terminations and stuff. I'm able to work with each intern and make sure they have enough work or need help. We're trying to expand to Instagram, Pinterest, and Google+, so it's a lot of strategizing and being able to be more hands-on with the planning of how we're going to do that rather than just doing it.
Question #6: How does the planning process work?
We read the articles and pick out the headlines, key feature, or something noteworthy in it and then making it the caption.
Question #7: Which platform is better for promoting, Facebook or Twitter?
I worked more with Facebook, so yeah
Question #8: What 3 words describe your role/you?
I would say creative, organized and social.
Question #9: Do you like being a supervisor more or miss being an intern?
I do like being a supervisor more because I get management experience from the supervisor meetings, working with the interns under me and obviously when I'm meeting with Geoffrey. Being able to hire people. I've learned a ton.
Question #10: What are you looking for in the interns you're hiring/makes them stand out?
I look for good communicators mostly, people I feel like are going to follow-through on what they say they're going to do. People that contact me ahead of time or will feel comfortable talking to, so it's a lot because working with social media, you have to be able to communicate well with people every day, including your audience and people you work with, like the Power Partners. Just someone who isn't afraid to over communicate and actually follow-throughs on what they're going to do because sometimes you get people who say, "yeah I'm going to do it" and then they don't do anything.
Question #11: What do you like most about the internship?
I really like the experience I'm getting in the leadership role and also learning a lot about SEO and how to promote and design which will be helpful in any situation especially in my field.
Question #12: Is this the first internship you've had?
Yes, I'm in the second internship here
Question #13: What do you find the most challenging at SWS?
Scheduling can be hard sometimes because of the time zone differences.
Question #14: What advice would you give to new interns?
Learn time management. Send out a schedule that you know you'll stick to every week and follow-through with it.
Question #15: Tips for promoting on social media?
Engage with your audience, put up contests and polls. Anything to make them feel like family or friends almost.
Question #16: What's your next step after the internship?
I'm a freshman, so still have school to go through. I'm working at Pulse publishing editing mystery and suspense novels. I'm the Senior Editor of one of their imprints, basically a genre, and they sell the books I've edited to Barnes & Noble and Amazon. I've been with them since the beginning of January. I like working with YA novels because I feel it reaches a broader audience as far as the impact of the novel goes farther. So if you promote them, they'll reach more people rather than a regular adult book.
Question #17: Where do you see yourself in 5-10 years?
Working for a publishing company, either having a novel of mine complete and ready to be published or is already out, finishing up on my Master's degree in either Creative writing or literature and then honestly having the time of my life. Not following a plan too closely but leaving a bit of room in case something else comes along the way.
LEARN MORE SEO FROM YOUR EMAIL
SEO, YouTube, Pinterest and more sent out bi-weekly
Thank you for subscribing.
Something went wrong.