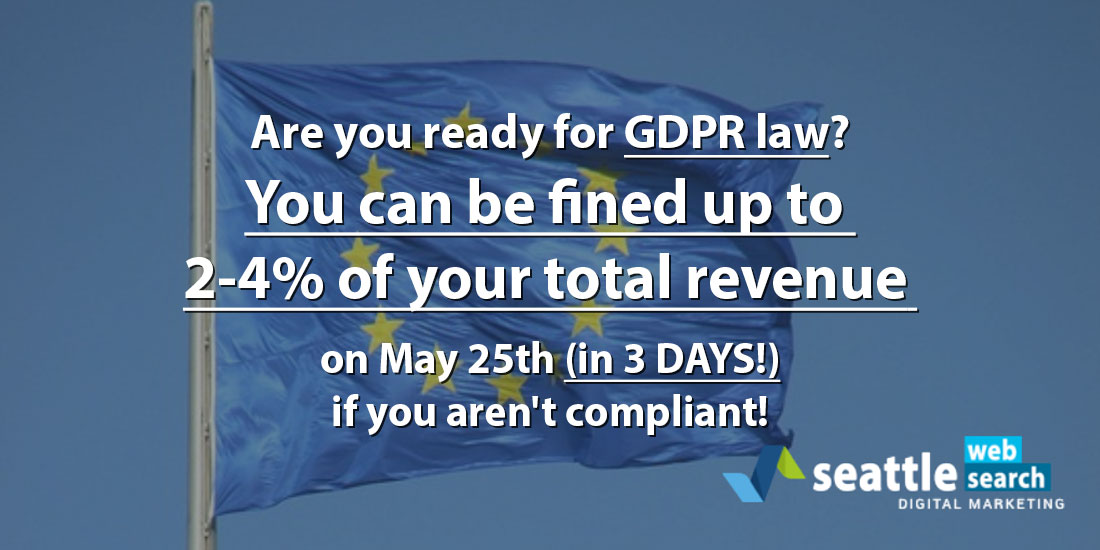 Hey Friends, 
You may already know this, but if not…I'm providing this for you to send to your friends and family who may own or run a website, blog, online store, or a mobile app.
Here is why…
You may have noticed several of the websites you regularly visit have new policy changes which pop up or are being emailed to you. Here is why you are seeing this and why it applies to you.
The GDPR laws are now in effect for all businesses, websites, blogs, online stores, and mobile apps regarding privacy policy, disclaimers, and disclosures. The fines for not being compliant will start being enforced on MAY 25, 2018.
---
What is the General Data Protection Regulation (GDPR)?
The General Data Protection Regulation (GDPR) is the most important change in Internet privacy laws in over 20 years. It contains 250 pages of tough privacy laws and regulations that will affect many websites and mobile app owners worldwide.
---
What Happens If You Aren't GDPR Compliant?
Failure to comply with GDPR can result in some pretty hefty fines. The fines will range from €20million (23 million USD/$), or up to 4% of the offending organization's annual revenue — whichever is greater. Now that's a serious fine.
For lesser offenses, the fine will be halved to €10million (11.8 million USD/$), or up to 2% of the offending organization's annual revenue — again, whichever is greater.
---
My Recommendation
I'm recommending everyone to get their policies in place and posted on their website ASAP.
Again, this GDPR law applies to ALL BUSINESSES, WEBSITES, BLOGS, ONLINE STORES, AND MOBILE APPS no matter what they are for. Plus, this is going to be a big deal to many website owners who I believe are going to be caught off guard. Even if your friend has a web designer/developer, not all designers are aware or implementing this for their clients. So, please forward this to all your contacts who have a website to ensure they get compliant. Let's help business owners avoid any unnecessary fines by doing our part in giving them the information they need. #PASSITON
If you need any help putting yours in place, just let me know.
---
Thank you, Melissa Anne of Curacy, for letting me know about this, I've been seeing notifications regarding it all over the place and have been ignoring them because life has been so busy lately.
I met Melissa this last week at the Business Bulldogs and she told me about how starting May 25th you can start getting fined for not complying (up to 2-4% of your total revenue).
I can't afford any more business liability so I've bitten the bullet and bought Package #1 Plus which she recommended. I'll write up a follow-up blog post once I've talked to James and finished the process, but with the deadline fast approaching I'm not sure if you should wait.
LEARN MORE SEO FROM YOUR EMAIL
SEO, YouTube, Pinterest and more sent out bi-weekly
Thank you for subscribing.
Something went wrong.