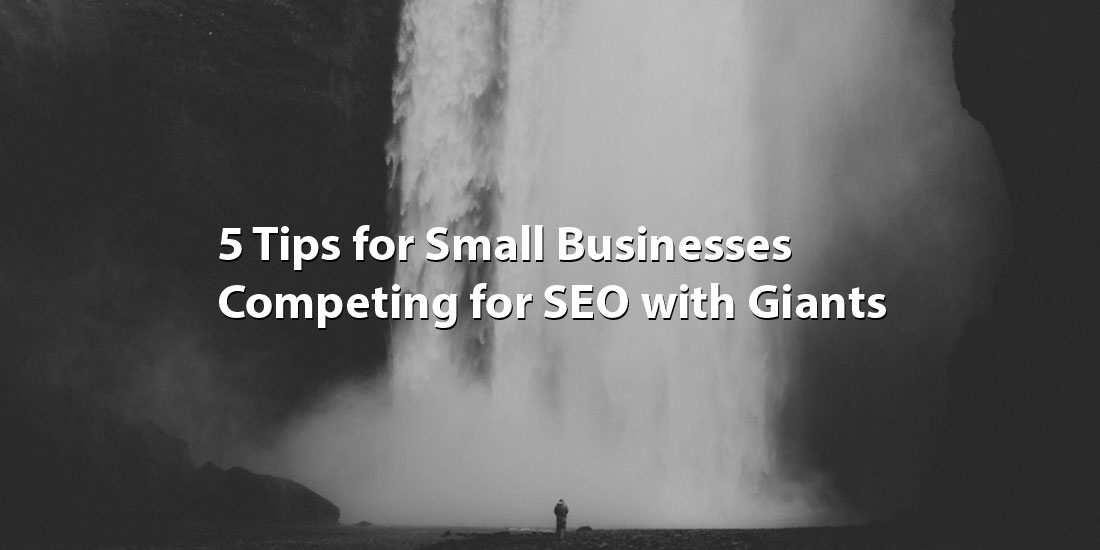 Since its novel beginnings, online search has grown into a standard part of everyday life; with this growth, search marketing has gained popularity. Nearly every single business, regardless of size or industry, maintains a web presence while competing for a small number of positions at the start of the search-engine results pages.
Because mega companies, like the corporations of Target or Lowe's, maintain millions of inbound links with years of content and a continuous line of online visitors, it's obvious why they always appear among the top ranks during searches for commercial products. No matter your industry, one competitor remains who holds a larger budget and resources along with a longer time in field. This competitor has built more visibility on the web and within search engines.
You may be wondering what your small business with its short experience and small amount of resources can do to compete with this type of online domination.
Remember: sheer volume is not part of search-engine optimization anymore, thankfully. No longer is time on the web, number of inbound links, or amount of content a factor when determining position in a web search. Instead, the pages or websites relevant to searchers becomes part of the process.
With this information, below are multiple strategies you can implement to gain an edge over the larger competition.
For optimization, influence locality.
One method to beat competition is to target an audience of a more local variety. In today's world, having a local search is important and holds relevance to shoppers. Having a coffee shop that rates high in Seattle means more than if it rates okay at a national level.
Remember, this holds true even if you have a business that maintains a national or international presence. If you contain a niche market, you can edge out competition to at least one area through optimization of one specific local area. Use the strategies below to create this reputation and gain relevance within your city.
Community building and even attendance
Through community events, you can send your names out. Whenever possible, attend large events like festivals, fairs, fundraisers, or other gatherings. By simply being there, you will instantly gather new business especially if you offer discounts or promotions to attendees. Additionally, you can brag about the attendance online and gain for your SEO.
Be sure you add superb content for your website and use local-specific keywords to discuss the company's attendance and create a press release regarding the opportunities for local-specific and high-authority inbound links. In doing this, you are sure to generate publicity while building local-optimized content at the same time.
Local reviews
Directory or aggregation sites like TripAdvisor remain essential to your local SEO. Sites like Yelp have received a large boost in priority. Sites holding more volumes of positive reviews keep a higher rank on sites with less or negative reviews. Yelp profiles actually often rank higher than the official pages from the companies represented because of the increase in Yelp's importance.
For a small business, this means you can jump in rankings without the stress of building links or creating content. Using this method allows for focus on your customers and growing strong and positive reviews. Remember that Yelp prohibits compensating reviewers or directly asking for reviews. However, through the use of Yelp stickers or call-outs on social-media profiles, you can encourage people to complete reviews.
Hyper-local content
Local can become even more local as strange as it sounds. Take advantage of this growing trend as a means to crumple larger competitors specifically those that operate within the same city. As Google grows in its abilities to locate, it increasingly identifies and categorizes specific neighbors especially within larger cities.
Take local search further by using those neighborhood-specific keywords over city names. Remember, your success depends on how Google lays out the neighborhood boundaries, so complete the research beforehand.
Niche Specializing
As a small business, building a niche allows for specific customers. However, make sure you create the best option with search visibility in order to cover all areas of expertise. If your business works in a multitude of home improvement options like roofing, plumbing, heating, and so on, you will appear many times over with queries of those keywords.
But, if you wish to take down your largest competitors, create a more niche focus. Instead think of quality over quantity: if you have multiple areas of specialization, you have a wide range of keywords, but low range with them. By funneling your efforts into a few keywords, your visibility rises.
Thinking back to home improvements: if roofing is your specialty, you may lack visibility with the other keywords, but you become the best in roofing.
Social Engagement Personalization
To overcome steep competition, try stepping up your brand strategy using personal factor. Once larger businesses hit a specific point in growth, they lose part of their personalities. Staying small and quick for change allows you the advantage of sharing a more personal and human experience with all followers.
Cultivate your following on social media. In doing so, you will attract followers and pull more posts. With a larger and active social-media presence, your rank will increase in Google.
Long-tail Keyword Strategy
Like niche specialization, long-tail keyword strategies attempt to accomplish a similar goal. With niche specialization, maximum relevance is maintained through a smaller volume of topics. Using long-tail keywords, you sacrifice minimal ranking possibilities with more popular keywords and replace with maximum ranking potential using low popularity keywords.
Google looks for long-tail keywords (extended phrases) instead of shorter, more popular phrases. Think: "Tips for installing a shower in a bathtub" versus "showerhead installation." It remains easier to rank high with long-tail keywords compared to shorter keywords, despite less traffic, they stay valuable to small businesses.
Thankfully, to optimize long-tail keywords, little needs to be done. Research the best long-tail keywords using Webmaster Tools or by simply publishing great content. With your writings, long-tail keyword phrases will appear naturally.
Content publishing needs to be recognized and authoritative
Building loyalty, trust, brand awareness, and credibility means regular and superior content publications. Many companies use blogs to publish content. Others choose to produce and distribute podcasts, videos, webinars, ebooks, or other forms using a variety of channels.
Remember: to build your brand with content strategy you need quality and consistency. Increase the reach of all pieces of content published for a maximum return on investment. To start being recognized as a reliable authority, maintain a consistent publication schedule.
Conclusion
Keep in mind no shortcut will rise you to the top of search engine rankings specifically when a mass competitor is on scene. However, using the strategies of location and flexibility, you can pass your competitors within specific key areas.
For the best odds, narrow your topic and keyword focus while increasing the relevance of location. You may not rank all the keywords the larger companies do, but you could surpass their relevance with chosen focal points.
LEARN MORE SEO FROM YOUR EMAIL
SEO, YouTube, Pinterest and more sent out bi-weekly
Thank you for subscribing.
Something went wrong.