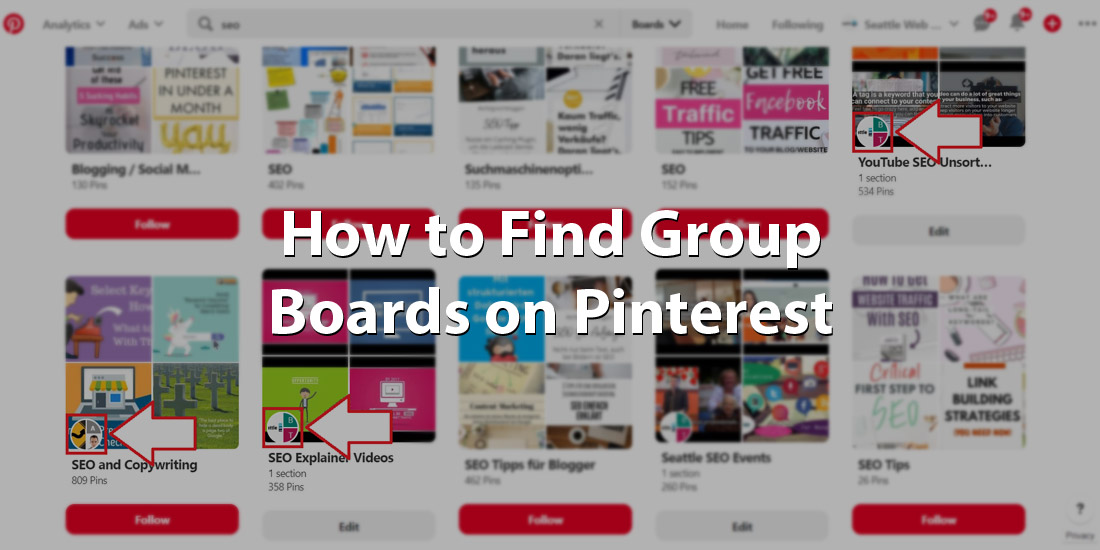 Do you use Pinterest group Boards in your social media strategy?
Would you like to get your Pins more visibility/traffic?
You should be finding, joining, and Pinning to group boards for more Pinterest exposure and website traffic.
What Are Pinterest Group Boards?
Pinterest groups, also known as collaborative boards, are pages run by a single Pinterest user where other users, with permission, can also post content.
Why would you want to find group boards on Pinterest? Users following the board only count as followers for the board owner but will see all the content from every group member in their feed. This means that if you join a group ran by someone with a lot of followers, all of those followers will see your content. Depending on the owner's rules, any group member can invite users to join the group. When you follow someone on Pinterest, you won't automatically follow any group boards they're a part of; you'll have to do that manually.
Why Should You Use Group Boards?
Reach & Traffic
The content you post in a Pinterest group will appear in the feed of everyone who follows the board or any of its members, causing a large increase in your views and traffic. Try to concentrate on posting your original content on the board instead of sharing content; the point is to increase your exposure.
Quality Content
Group boards are also a great way to find content to share since boards usually adhere to a general subject. Thus they're a more efficient way of finding specific content than just trawling the internet.
Are Your Pinterest Group Boards Working?
There's a debate on how much group boards can increase your traffic, and if that's the primary reason you're using boards, you'll want to use a third-party app to check your analytics to see how your content is performing.
Where to Find Pinterest Group Boards
When you do a Pinterest search, you have the option to only display boards in the results; you'll have to manually check to see if the board is a group board. It's also smart to look at your competitors and see what groups they're following/part of. There's also plenty of Facebook groups for people looking for Pinterest collaborators. Pingroupie.com is a database of group boards that lets you sort them by subject, amount of followers, and other useful metrics.
How to Join a Pinterest Group Board
Most boards will list their invitation criteria in their description. These criteria can include following the board, repinning some content, or leaving some comments.
How to Get Invited to a Pinterest Group Board
If no one is responding to your request to join a group, try contacting the group owner on Pinterest or other social media sites. If you do that, make sure to be polite and let the owner know why you want to be a part of their board. When you receive an invitation, it will appear in your Pinterest inbox.
Having Trouble?
If Pinterest boards are proving troublesome for you, or you don't know how to find group boards on Pinterest, you can try Tailwind Tribes, which are like group boards, but with dedicated admins, so things are a lot more orderly.
Group Boards & Tailwind Tribes
Tailwind Tribes allow you to collaborate with others in your niche. Not only will your content be shared to their followers, but you'll save tons of time curating great content. Tribes are currently free to use, even for those without a Tailwind account. Tribes won't replace group boards; it's best to use them in tandem, maximizing your exposure.
LEARN MORE SEO FROM YOUR EMAIL
SEO, YouTube, Pinterest and more sent out bi-weekly
Thank you for subscribing.
Something went wrong.