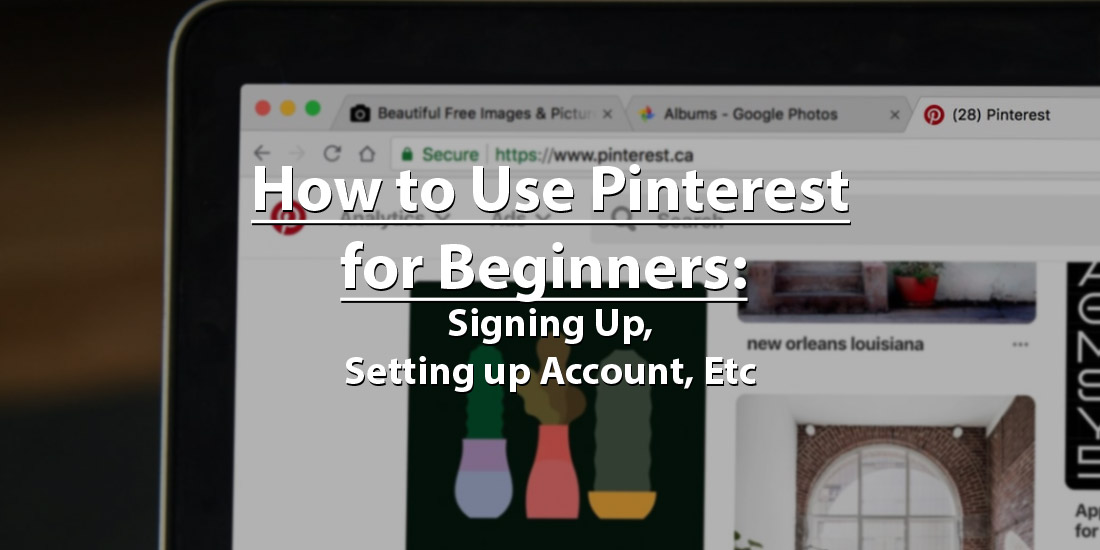 Have you always wanted to join Pinterest but never knew how to use Pinterest? Look no further than this step by step beginners guide that will help you set up your Pinterest account and get the basics of using and enjoying Pinterest down!
How You Join Pinterest                                                 
1. Signing Up for Pinterest
First, go to Pinterest.com and sign up for an account. When you sign up it will give you an option to connect with your Facebook or Twitter account. You should consider connecting your Pinterest account to one of these other social media accounts because it will make it easier for you to connect with friends, family, and your favorite brands or blogs to follow on Pinterest.
If you're not sure or you already have a Pinterest account that isn't connected them, you can always connect your other social media accounts later.
2. Creating Your Pinterest Profile
While creating your Pinterest profile consider all your other social media accounts. Be consistent with your usernames across the other social media accounts you may already have like Instagram or Twitter. This will make it easier for others who already follow you on those sites to find you and follow you on Pinterest.
Having the same profile picture on all your accounts helps too!
3. Check Your Settings
Once your account is set up go to your email settings. It's a good idea to keep email notifications on when begin pinning because you can easily find new accounts and see who is interacting with your pins and boards.
You can always turn them off in the future!
How You Pin Something You Like
1. Install the Pin It Button
The fastest way to add content from any site is to add the "Pin-it" button to your web browser.
Go to the "Goodies" page on Pinterest to install the "Pin-it" button. You can also add pins via the "Pin-it" button on your favorite websites. Its located near the other social media share buttons like Facebook or Twitter.
2. Adding a Pin
To add a pin to one of your boards click the "Pin-it" button in the bookmark bar or the share button on the website you're reading.
A window will appear prompting you to select a photo you want to pin. Select the photo you want to pin and then select the board you want to pin it to via the drop-down menu. Once you have selected the board you want to pin it to, write an explanation of the pin that will help you remember why you chose to pin it to that specific board.
3. Make a New Pinterest Board
To create a new board, click the "Add +" button in the upper right-hand corner of the main Pinterest page. Select "Create a Board." Give your new board an interesting and descriptive name so that your followers know what pins they'll see on the new board. Select the category that best represents your boards or choose "other" for more miscellaneous boards.
You can also add another Pinner to your new board. This means that they will also have the ability to add pins and other pinners to the board. They will not have the ability to change the title or category of the board.
4. How to Repin From Your Feed
If someone you follow added a pin that you like you can save it to one of your boards by hovering over the image on Pinterest and selecting from one of the three buttons that appear, repin, like, and comment. Click repin to add the post to one of your boards. Follow the same method that you would to add a new pin.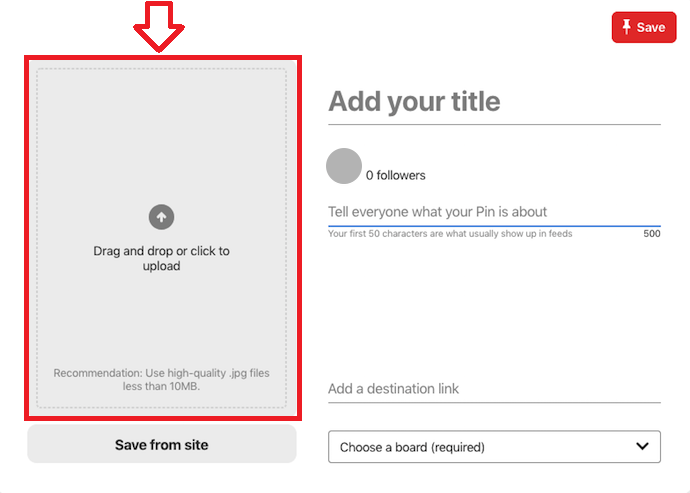 5. Liking and Commenting Pins
If you like someone else's pin, but don't want to pin it to any of your boards you can simply hit the "like" button on the pin. The original Pinner will be notified and see that you've liked it. You can see all the pins you've liked by going to the link on your Pinterest profile page.
You can also add comments to pins to interact with the original pinner and other people commenting. The "comment" button is right next to the "like" button.  Please be sure to keep the comments civil!
6. Uploading a Pin
You also have the ability to upload pictures that you took yourself. Go to your Pinterest dashboard feed and click the "Add +" button in the top right-hand corner. A window will pop up and from there you can add a pin by pasting in the URL of a website or uploading a photo from your computer.
LEARN MORE SEO FROM YOUR EMAIL
SEO, YouTube, Pinterest and more sent out bi-weekly
Thank you for subscribing.
Something went wrong.