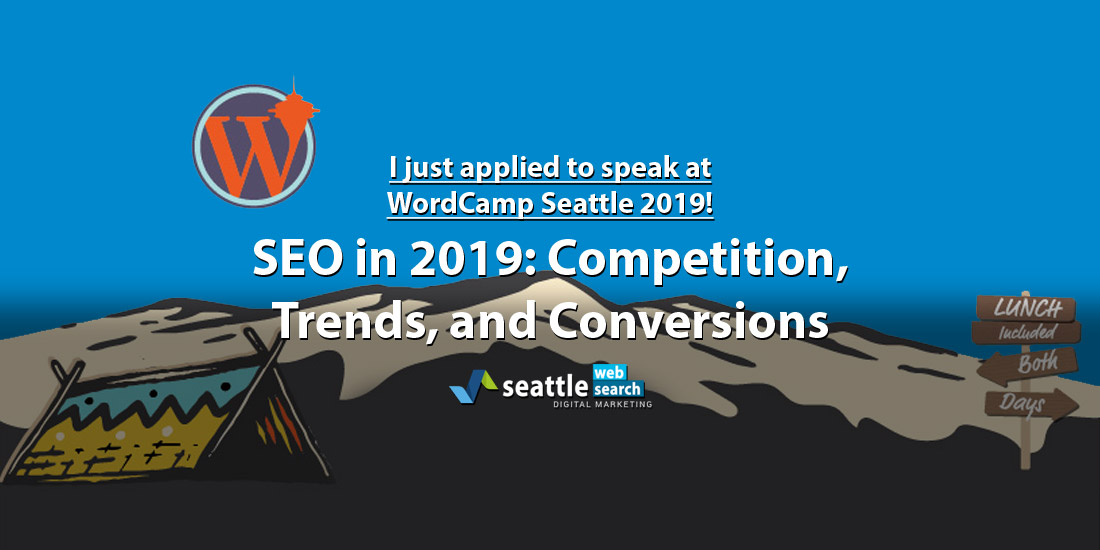 Here is my application for WordCamp 2019, fingers crossed!
My Bio
My tech career started when I came back from college and started working with a tech support company in the California bay area. 6 months later I decided to start my own business and made myself a website.
6 months later I rebranded my company from Tech Support to Web Design.
6 months later my web design business website (which was pixel-perfect in my opinion) wasn't getting any traffic, so I tried to hire an SEO professional from a nearby BNI group I'd visited. His quote was $5,000, the second person I asked quoted $2,000 and that is when I started Googling on how to do it myself.
A year and a half later I moved to Seattle and started my second company, Seattle Web Search. I now exclusively do SEO and my website of preference is WordPress.
In the beginning (2014), my clients were mostly small businesses/solopreneurs with one or two employees, and my strategies reflected that. This means that my SEO strategies have been designed from the ground up with efficiency in mind and account for the fact that most business owners don't have extra time/resources and need to be focused on efficiency/ROI.
In 2017, I started hiring (I now have two employees, George and Jessica). And we are now expanding to Bellevue and Tacoma, and into small-medium sized businesses with 2+ employees/or more than 1 location.
We help WordPress designers/developers/businesses find the right combination of web design, PPC (pay-per-click), social media, video and content marketing to get the best results from their online marketing efforts, do more business online and stay future-friendly.
Past Speaking Experience: https://seattlewebsearch.com/category/post-past-event/
Topic Title: SEO in 2019: Competition, Trends, and Conversions
SEO means "Search Engine Optimization". This is basically anything that you can do to make the search engine (ie. Google) happy, the happier Google is with a webpage, the higher it ranks in Google for keywords.
SEO isn't about magic tricks or gaming the search algorithms. What you really need is a thorough understanding of what people want when they search – and why they want (or need) it.
The fact that there is no big secret is what makes SEO so hard. It's also a constantly moving target. What makes Google happy changes over time because the internet changes. If you stay on top of those changes, you can take advantage of things that your competition may not be aware of yet.
First, you make Google happy, then Google sends people to your website, then your website/marketing funnels need to make the visitor happy and get them to fill out a contact form, send an email, or pick up the phone (ie. convert).
Traffic is easy to get, conversions are the hard part, so you should always strategize for conversions from the beginning.
SEO isn't only about being found on search engines and driving traffic to your website. It's about providing a great experience and generating leads and revenue. This includes understanding algorithm layering (ie. personalized results).
It takes more than just building links, creating any old content, and adding a few keywords to improve your organic search rankings and increase the visibility of your business or brand.
This presentation on SEO will get you started.
SEO at the end of the day is all about competition. So to be efficient in your online marketing efforts, you need to avoid unnecessary competition. You can do this by taking advantage of (1) trends in the SEO industry, (2) your industry, and (3) by focusing on what differentiates you from the competition.
1. Taking advantage of how competition works in the SEO industry: Focus on video.
This is because YouTube is owned by Google, this means points are shared between the platforms, and your success on YouTube more easily flows to Google compared to Facebook (competitor to Google).
On top of this, 100% of your competition is on Google, only 9% of U.S. small businesses use YouTube. That means you can get easy points on ~90% or more of your competition depending on your industry (some of your competition that is on YouTube will be weak and easy to beat).
This is why businesses that use video are 50 times more likely to reach the top spot on Google. [examples provided during presentation]
2. Understanding competition in your industry: Keyword research.
The keywords with the highest volume overtime become more competitive and become less valuable. This is why you should focus on a KEI (the ratio of traffic to competition) vs. search volume.
Seattle electrician = 250 searches a month, and 2000 competitors = 1/8
Bellevue electrician = 60 searches a month, with 240 competitors = ¼
Bellevue electrician, in this case, is going to be about twice as easy to get results for.
Many people get distracted by high volume keywords and trying to rank #1 for them, but this doesn't always equate to SEO success. Keywords can sometimes betray you. Keywords may have a high search volume but can lack specificity and value.
A diversified keyword strategy can and is often more efficient and results in more traffic/conversions. [examples provided during presentation]
3. What differentiates you from the competition.
Service pages, while important, aren't going to make a huge difference by themselves.
This is because they are very competitive. The majority of your competition (at least the competition you should be worried about) will have dedicated service pages, meaning you won't get a lot of points for having one by itself (hint: also make a video).
Hint: Don't have one page with all your services. A general concept in SEO is that the better you organize your content the easier it is for Google to send the right person to the right place. If you talk about 20 different services on one page, Google might get confused about which service is the focus of the page, and will likely choose webpages that are more clear/better organized (ie. dedicated service pages).
This is why creating content about what differentiates you from the competition is so important.
Ask yourself:
What do you specialize in?
What is the product/businesses' unique selling proposition?
What don't you do?
Where is the company really hurting right now?
Who do you mostly work with?
Who do you want to work more with?
Why do you do what you do?
How did you get into it?
What is the company's vision?
This kind of content that differentiates you from the competition, has a much higher chance of ranking quickly, getting traffic, and conversions. [examples provided during presentation]
Whether you're in-house or outsourced SEO, you need to have a solid understanding of the company in order to make any SEO strategy successful. You need to know what strengths you can leverage in order to get the most SEO value.
4. Conversions are hard.
Your end goal in SEO is to convert your target audience. And this statistic says it all: the top-ranking page gets the most total search traffic only 49% of the time!
The lesson: it's time to stop agonizing over ranking #1 and start focusing on relevant search traffic. The amount of traffic (that drives sales and conversions) is what really matters.
Always optimize for people, not search engines. Create content for customers, not for the sole purpose of ranking higher. When you put people at the center of your content strategies, chances are you'll be way more successful in search engines.
This is how you deliver great digital experiences and understand your customers better. Focus on the topics people want rather than worrying about keywords as much. Use your content assets to listen to your audience and create content that directly addresses their questions and pain points.
Not sure what that is?
Try social media for social listening. Social platforms also provide ample opportunities to learn about people and listen to needs. Many people use social media to complain. A lot. Use it to your advantage.
Research the competition. Your competitors are a goldmine of information that can inform every aspect of your SEO strategy and help to skyrocket your website's organic traffic.
In concrete terms, performing an SEO competitor analysis lets you:
• Learn what works and what doesn't in your industry.
• Find competitors' weaknesses, and capitalize on them.
• Find competitors' strengths, and replicate them.
• Understand what SEO tasks to prioritize going forward.
• Understand how difficult outperforming competitors in the SERPs is likely to be.
And finally, you should understand the basics of algorithm layering (ie. personalized results). Everyone is aware of personalized results, they just don't realize how far it reaches and how powerful it is.
GPS layering: When you search for a restaurant, Google shows you restaurants nearby (ie. things nearby will be more relevant to you).
Social layering: The more you engage with someone/business on social media, the higher in the search results they will be.
Backlink layering: If website A links to website B, then the audience of website A is likely to be interested in website B for relevant searches.
Cookie layering: Anytime you visit a website, that gets saved in your browsing history/cookies and gets sent to Google. This is how Amazon and Yelp get most of their SEO. After you shop for/buy a product on Amazon, the next time you search for something on their website, your previous visit pushes their links higher in the search engines.
This means that for any search engine user/search you can show up higher or lower in the search results due to this algorithm layering. There are many ways to use this to your advantage in SEO strategies, including but not limited too diversified keyword strategies, content silos, conversion funnels, PPC (pay-per-click) retargeting, platform-specific strategies and more. [examples provided during presentation]
5. Conclusion: Stay well-informed and learn continuously.
SEO is a fast-paced and dynamic field. It can also sometimes be frustrating, especially if you're relying on outdated tactics that no longer work. This is why it's important to understand what we covered in this presentation regarding competition, trends, and conversions.
Combine what you have learned here regarding search engines, with what you know about your company and you should have an SEO strategy that means business.
This presentation is appropriate for: developers and designers, publishers and marketers, freelancers/business owners, a general WordPress audience.
LEARN MORE SEO FROM YOUR EMAIL
SEO, YouTube, Pinterest and more sent out bi-weekly
Thank you for subscribing.
Something went wrong.