The biggest difference between Google+ and every other social network, in terms of SEO value, may be the way that user-created content is treated. Public posts on Google+ are indexed for search, unlike most tweets, Facebook posts, etc. This is for 2 reasons:
Twitter has told Google to not follow most links and Facebook's privacy settings prevent many posts from being indexed – it's not simply because Google won't index content from other platforms.
Google+ posts get crawled and indexed quickly because, among other objectives, Google is trying to use Google+ to enhance real-time search. Secondly, Google Plus is used to optimize search results with rich snippets. What does this mean to you? You get "points" for every post and piece of activity on Google+, whereas Facebook you only get points for shares and comments, and for Twitter you only get points for re-tweets and mentions.
Studies show a powerful correlation between search rankings and the number of Google +1's received by a URL. Searchmetrics found Google +1's to be the most highly correlated factor to search result rankings, and Moz's 2013 scientific correlation study placed Page Authority just above +1's at the top of all correlation factors.
Here are some more reasons why Google is a more valuable SEO opportunity:
Google is directly competing with Facebook for social domination.
Google is giving SEO incentives to attract users to their platform.
Google+ is naturally more SEO friendly than all other social media sites.
Google+ is less competitive and saturated than the other social media sites.
Google+ Tip: There are plugins for WordPress based sites that will publish your links to G+ automatically, along with Facebook and Twitter. You should also install a G+ button on your site so that readers can share your work.
By joining Google+ you're helping your company get found on their network and in relevant searches.
Integration – When you use Google+, your profile and everything you post become available to the world.
Google has a huge array of products from maps to browsers. The content you share on Google+ will show up in all of their products (i.e. YouTube, Google Maps, etc) and help cross promote each other.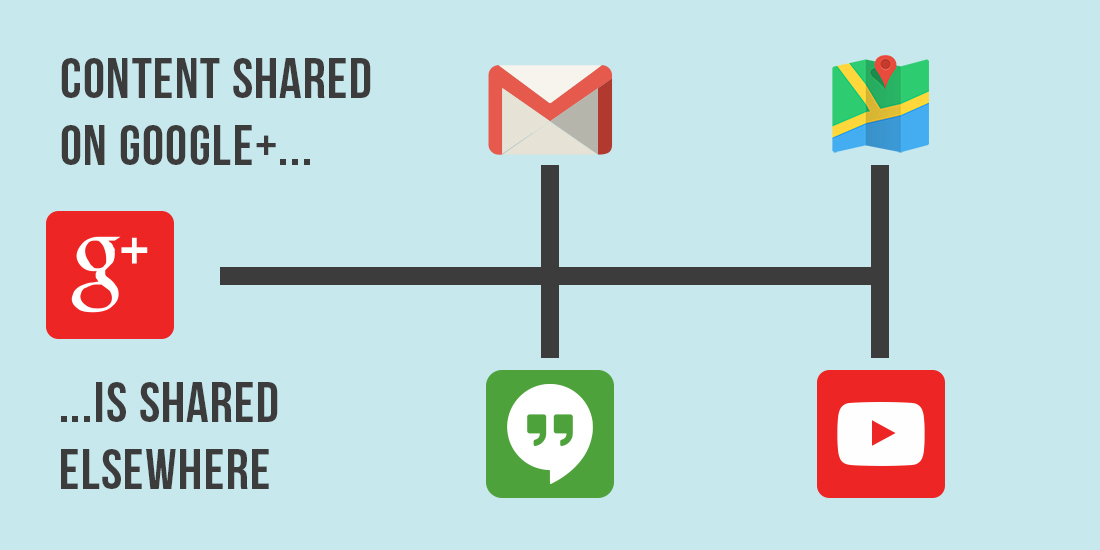 Tools – Google+ has quite a few tools that can help you grow your customer base.
Marketing on Google+ is easier than it looks. Adding people to 'Circles' allows people to find you or decide to follow you back. You can use your contacts from years old emails and invite those people to add you back.
Hangouts are a video service, like a video conference that you can invite your contacts to. People can also join if they see you have a hangout running. Think of Hangouts as podcasts with video and increased exposure.
Social Layering – As mentioned, G+ results show up in Google search, but do you know why?
When you are signed into your Google account the search engine searches results relevant to you; your location, your previous searches, and your social networking circles or 'pluses'. Google calls this Share +Your World. This layering helps you be found by your contacts when they are searching for something that is relevant to your product or service.
Use Google+ to generate and convert leads, build buzz, and give your small business a huge potential advantage over your slower, less clued-in competitors.
LEARN MORE SEO FROM YOUR EMAIL
SEO, YouTube, Pinterest and more sent out bi-weekly
Thank you for subscribing.
Something went wrong.