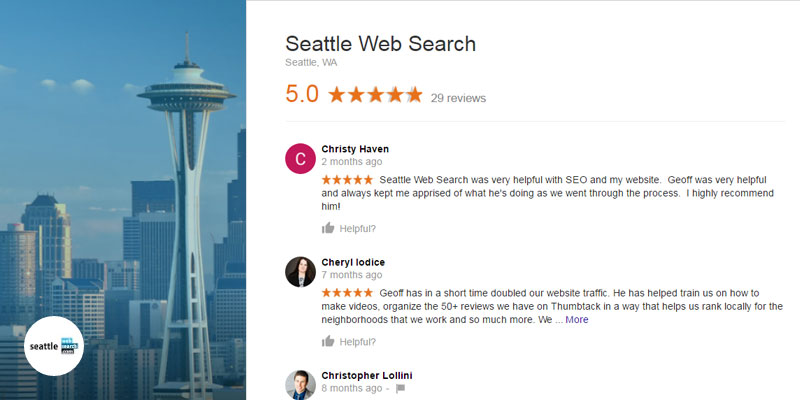 Follow These Three Quick Steps and You'll Learn How To Embed Google Plus Reviews
Reviews from previous clients and customers are available and important to take advantage of. By following this guide, you will be able to embed Google Plus Local Business Page Reviews straight into your WP blog or website. It will take no more than 5 minutes to get through!
Get signed into your Google Plus Business Page and then share your review to your stream.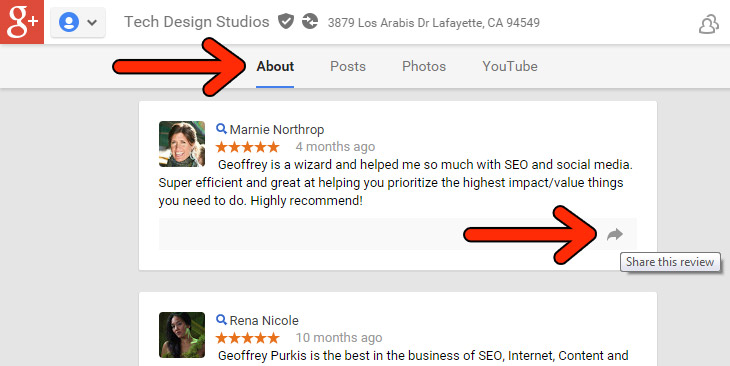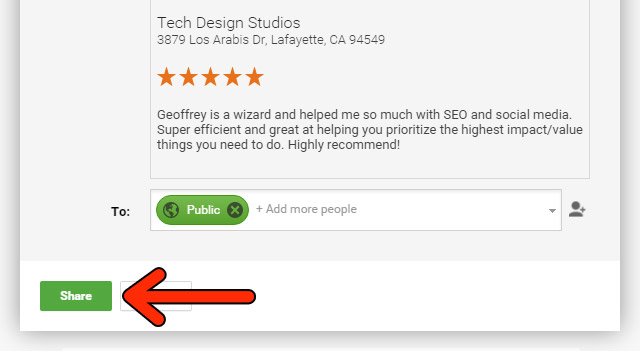 Sharing Google Plus Reviews is a great tool which few people take advantage of. Make sure to share your Google+ review as it is on your own page. Do not get the review from the profile of the specific person who wrote it! This is important. This is because by sharing the review as it appears on the persons profile, the shared information will not include the name of the person, which will decrease the authenticity of the review. If the person doesn't have a Google+ account you will not be able to share these Google Plus Business Page reviews.
Tip: To start with do not add any descriptions to the reviews you share. I've discovered this makes visitors focus less on the reviewer's name and on the review.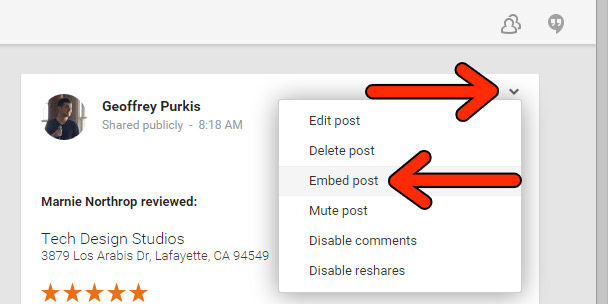 Click the drop down arrow in the top right corner of the Google+ Review, and then click "Embed Post". You'll find a code pop up, which is needed for embedding the review in a website/blog. You can choose a code which allows comments or disables them.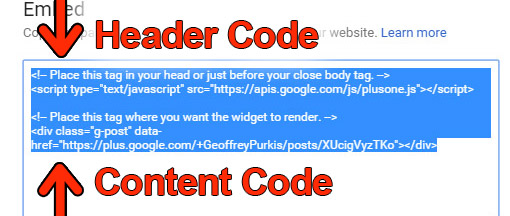 Step 2.1: Insert Header Code
To make the reviews function properly on your website/blog you need to embed a short JavaScript code between the <head></head> part of the website code. Below, for WordPress I have shown you how you go into the WordPress theme editor to enter the code. Then you must go to APPEARANCE>EDITOR and open the HEADER.PHP file.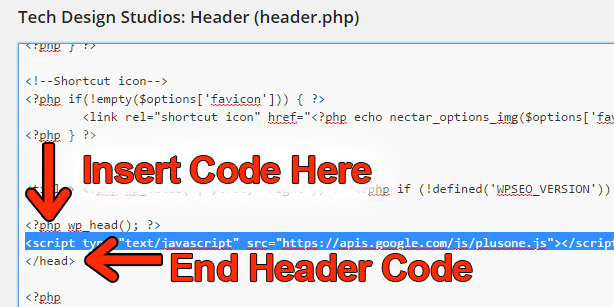 Step 3: Embed The Google Plus Review!
This is what you have been waiting for! Copy and paste the next part of the embed code straight into the HTML editor of your website. Warning…This will not work if you try embedding the code into the WYSYWIG editor. Save and publish!
The Benefits Of Embedding Google+ Reviews On Your Website
The number one benefit of embedding Google+ Reviews into your website  is you get to show what REAL PEOPLE are saying about your business, with their full names and everything.
Conclusion
Writing and placing testimonials into one's website  is an old-school method and it is not a good idea. With testimonials, website visitors cannot tell when a website owner has written up their own testimonials or when it is authentic. This could negatively impact the credibility and attitude towards your brand. It is well known, consumers are more likely to make purchases on a website which has ratings and social proof, and especially legitimate proof. By embedding Google+ Reviews, you are taking the extra step of authenticating the positive comments real people are making about your business, and it is from a credible source!
LEARN MORE SEO FROM YOUR EMAIL
SEO, YouTube, Pinterest and more sent out bi-weekly
Thank you for subscribing.
Something went wrong.