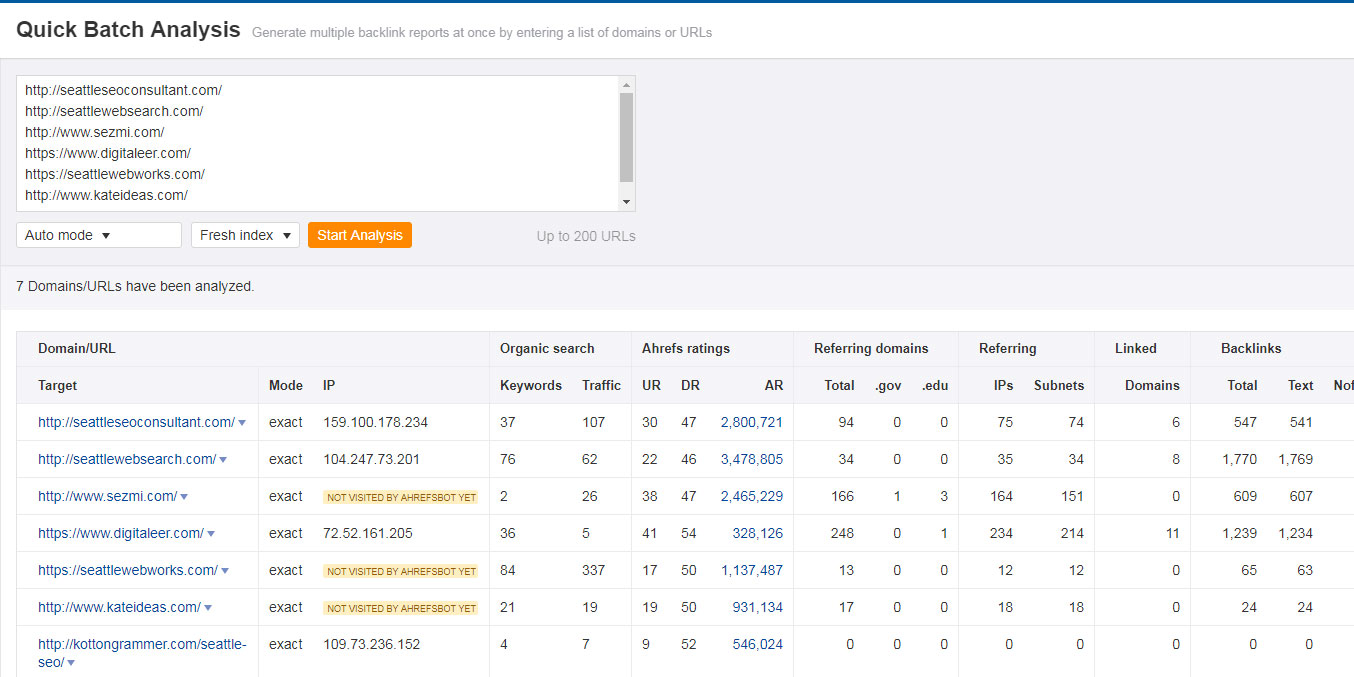 Search Engine Optimization (SEO) is one way companies and businesses can get more internet traffic. The better their SEO, the greater the traffic visiting the company's website to potentially do business with them. By using competitor analysis, you can see which companies to consider competition, and which you can consider mutually beneficial. Needless to say, it is a very powerful tool for businesses to reach potential clients.
Yet with this new medium of business, comes another problem: competition. Hundreds of companies compete to make their website the most popular.
A big part of SEO is knowing what your competition is doing, so you can find keywords and channels (example: YouTube, Facebook, Pinterest, Yelp) that aren't as competitive and are easier to get results. This is called competitor analysis, it can be quite overwhelming for businesses new to online marketing and how SEO works.
What all these competing companies don't realize is that by forming rivalries and working solo, they leave room for intuitive people to get ahead. Not by competing, but by working together. By working together, small businesses can get double, possibly even triple, the SEO in a few months than solo companies can get in a year. And given the ever-evolving nature of technology, there are several tools at your disposal that make it fast, easy and efficient for all parties involved.
[clickToTweet tweet="Avoid unnecessary competition by forming mutually beneficial SEO partnerships " quote="Avoid unnecessary competition by forming mutually beneficial SEO partnerships."]
A lot of people compete unnecessarily- let's say you work in Seattle as a photographer. Realistically, you can't service all of Seattle alone, so if you claim to be a "Seattle photographer" you're competing against people you don't need to be.
By narrowing your focus and choose a specialty, you can then teaming up with other photographers in town (let's call them SEO partners). It's getting out of the mind frame of "I want all the business in town" and thinking "divide and conquer" instead.
Attempting to do business in the entire area causes your efforts to be watered down, doing more work for less results. So by meeting other people that are in your profession, and are far enough away, or do business differently, so that they don't seem like competitors, you can create mutually beneficial SEO strategies. This is a great example of how competition analysis can make your marketing efforts much more efficient, as you can separate ally from competition for more quickly.
GPS is one of the strongest ranking metrics that Google considers. The amount of SEO you need to do to get a customer that is in your competitors home turf is not a smart use of your time and money.
Figure out:
What do you specialize in?
portrait vs architectural vs maternity vs family photography
Where do you want to get more business?
Your "Google my Business" location is where you should start unless you are already ranked #1 for that area, then you can move out another 5 miles.
How are you different?
Why should they choose you, besides you being the closest business to them.
Who you primarily work for?
(businesses / B2B) vs (consumers / B2C), residential vs commercial, small vs medium vs large businesses
Then after identifying anybody who differs through competitive analysis, you can help each other.
If you do everything, it locks you out of these mutually beneficial relationships. The more you specialize, the faster you can get results, because you have reduced the amount of competition your dealing with. It can also help you pick long tail keywords (example: West Seattle maternity photographer vs Seattle photographer).
Google Plus is much less competitive that Facebook and Twitter, as well as offering more SEO per activity.
Google Plus is in layman's terms the is one of the most efficient ways to build SEO from a social media perspective, despite the small numbers of users. Less users means competition, which means you get a lot more SEO for your activities.
Google awards the most SEO points to Google Plus posts compared to other social media sites. Point of comparison: on Facebook, you don't get much SEO without engagement. Even if someone likes your page, likes your post, even comments on your post, you get only a fraction of the points you would get vs a share. On Google Plus, you get SEO for most activities, because of this Google offers more SEO benefits versus other social media sites.
Here's a graph, that shows you basically how much a couple Google Plus followers improves your ranking, and how much a couple Google Plus 1's improves your ranking, compared to Facebook promotions, which you pay for. It's 3-fold; the difference in power is astounding.
Now say you don't want to have to manually post every single post. You can automate much of the process thanks to a tool called Bulk Buffer. You can add hundreds of posts to Google Plus in less than 5 minutes a month.
Not only can you schedule hundreds of posts in a short amount of time, you can double the amount of SEO you get by going to your Google Plus page and Plus-1-ing your own posts, you can even triple, quadruple or more the amount of SEO you get with SEO partners, you +1 their content, they +1 yours.
Here is where Google Plus's awesome potential shines through, let's do the math:
If you post only once a day, all week, that's 30 "points" a month, 60+ if you +1 your own posts, and if you work with 1 SEO partner, that's another 60+. That totals to 120+ points, within an hours' worth of work.
Do this every month, over the course of a year, and you start to see those numbers add up quickly; work with a couple more SEO partners and you can get much more out of your efforts.
YouTube is a huge SEO opportunity for small businesses due to it having less competition than Google search.
A good reason YouTube is a powerful source of SEO is that small businesses don't use much. Less than 15% of small businesses have videos, and even less have active channels.
Do some competitive analysis and check out your competitors websites, see if they have a link to YouTube, if they don't that means that you have an opportunity to get SEO that is more effective than a channel that they are actively using.
YouTube also works on the same principle as Google Plus. Because Google owns YouTube they want to incentivize using their platform by making it SEO friendly.
The thing about Google is that it can't see videos or images. It gives SEO based on metrics such as subscribers, the amount of views your video has, the amount of retention it gets (did they watch 10% of the video, 20%, 50%, %100), likes, dislikes, comments, etc. So the quality of the video has little to do with SEO and more to do with its conversion potential.
There is a lot of SEO potential in the YouTube comments section, where you and your SEO partners can trade comments and engagement. The same principle as Google+ applies, if you comment on someone's video, they can reply to your comment, and now you have 2 comments. If you do it all together in a group of five, you can get 25 comments, just from replying to each other.
Additionally, you can comment an unlimited amount of times, with lets businesses converse extensively while building their SEO. YouTube is weighted more heavily than Google Plus because no one is on Google Plus whereas YouTube is the second largest search engine in the world (not Bing or Yahoo) and comprises over 80% of the world's bandwidth (data usage). Video is the future of online content.
Competitor Analysis and You
As you can see, using competitor analysis across multiple media sites can not only give you an edge, but identify a potential business opportunity that rewards all parties involved. Used well, competitor analysis gives you vital data in Google Plus and Youtube that is often overlooked. Used effectively, competitor analysis gives you data that can let you rise to the top.
LEARN MORE SEO FROM YOUR EMAIL
SEO, YouTube, Pinterest and more sent out bi-weekly
Thank you for subscribing.
Something went wrong.