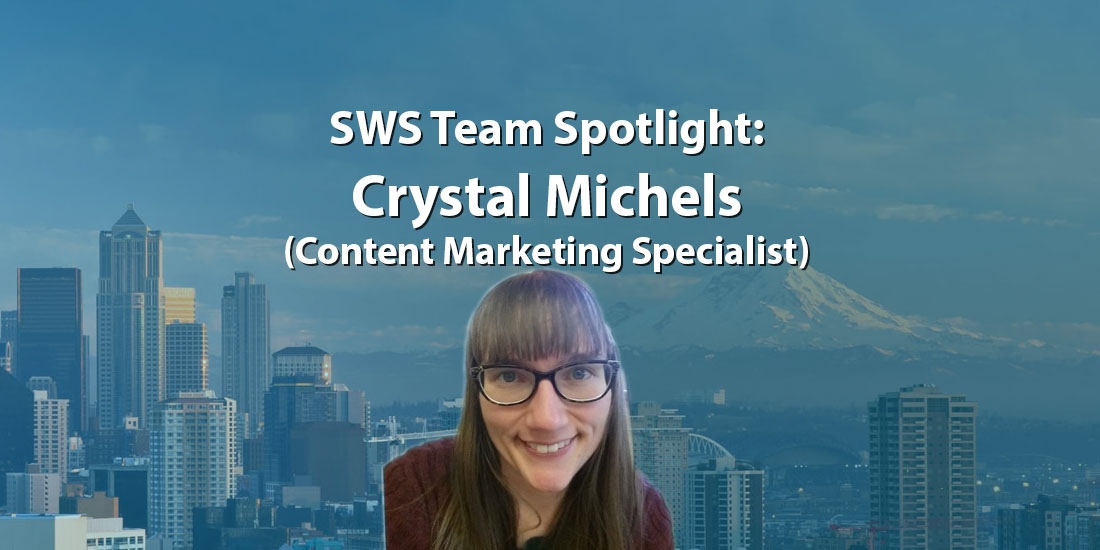 The first person from our content marketing team to be in the spotlight is Crystal Michels. She finished off her internship with us towards the end of 2017.
Question #1: What drew you to SWS originally?
Well, it was probably that I never really worked in anything like that.I learned a lot about SEO and wanted some experience with it. I liked the content that was already on the website, and what their message was.
Question #2: I know you're currently a teacher at the moment, would you want to be a Content Writer?
I wouldn't mind doing work online as a writer, for sure. Definitely one thing I'm trying to gear myself towards.
Question #3: What three words would you use to describe yourself?
I try to be honest because I think that's a big thing for me. I'm pretty honest with my students. I want to say I'm organized but I know I'm not super organized but like organized chaos. Then I guess humorous since I'm all about being funny. I find it helps a lot.
Question #4: What did you like most about this internship?
Just the amount of knowledge I learned. I had so many different things that I had to do and was able to learn a lot from it.
Question #5: What did you like the least?
I guess with all the work on the articles being given and then the pace of them going out was not consistent.
Question #6: What have you learned from this internship?
Learning how to communicate more with people via Skype or email since I'm used to face-to-face interaction as a teacher. Communicate on articles and problems was definitely something I didn't have a lot of experience with. I got to learn a lot about the programs and interacting with them was helpful.
Question #7: What would you improve about the Blogging team?
Just the prioritization of the work we were doing. That was kind of a big thing. Like if I was working on something then it was like "oh no. drop that and do something else." It would've been nicer to have a more set schedule. I enjoyed the work I did and think it was very beneficial.
Question #8: What advice would you give to new interns?
Ask a lot of questions and don't suffer in silence. I never felt stupid about the questions I would ask and you were always very helpful. This is how you learn and improve.
Question #9: Where do you see yourself in 5-10 years?
I'm hoping to teach part-time while doing something that's in the communications or writing field. That's really where my passion is at and I wouldn't mind using that to help people. After reading and working on the articles about Nonprofits, I wouldn't mind working for a nonprofit.
Question #10: What are you working on now?
Working on a research paper about collaboration. How communicators and technical writers are different, how a business can collaborate efficiently I guess. So I'm studying on that. It'll go into a portfolio of mine that's I'm putting together and also gets archived in their library. I've been told I should submit to some journals, which I will when I have time.
Question #11: Last thoughts about the internship?
I'm very thankful about the opportunity because I live in North Dakota where there aren't a lot of opportunities like this, so it was great to actually go out and meet other people so to speak.
LEARN MORE SEO FROM YOUR EMAIL
SEO, YouTube, Pinterest and more sent out bi-weekly
Thank you for subscribing.
Something went wrong.