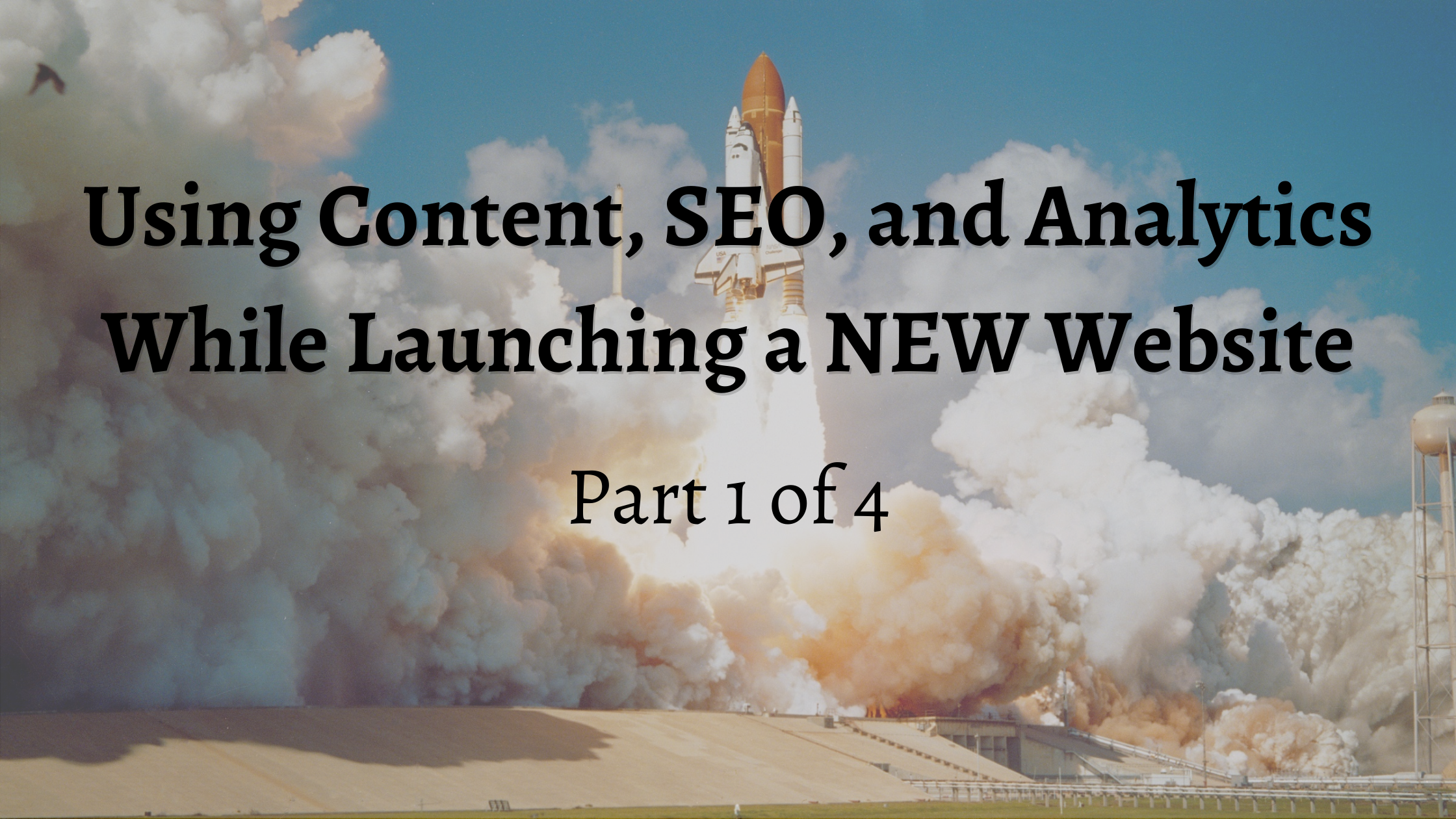 So, you already have a website but you're looking to relaunch.  Or maybe you're just looking for a modern website update. Launching a new website can be intimidating; it requires a grasp of web design, which, in itself, is a multitude of little components. It only takes one minor misstep to ruin your website.
When launching a new website from your old one, use this checklist. It is a culmination of multiple years of experience stemming from plenty of mistakes and lessons learned. This checklist will help you through the growing pains of web design. This list generally uses Google Analytics and other Google-based software, but there are other options available if you choose to look online for them.
Content and Search Engine Optimization
Follow these steps to be sure your content finds its way to the top with these SEO practices. You may not need to move every page from your original website, but you SHOULD move the best performing content when considering rankings, traffic, and link popularity.
Create Lists and Compare Data to Find Your Best Content
Google Analytics – export a list (as a CSV file) of any high-traffic pages.
Google Search Console – export a list (as a CSV file) of your most linked content.
Use a tool like SEMrush – obtain a list of high-ranking pages. Frequently, high-ranking pages match all high traffic ones so you may not need to do this step Be careful! If your current site holds a high rank while getting tons of search engine traffic, make sure you follow each step from this post before going live with your new site. Remember: You need the traffic!
Take these lists and combine them on a spreadsheet. Check your new site to make sure these pages, or similar pages, exist there.
Create a list of URLs consisting of all top pages from your old site. With this list:

Track which URLs will be changed during your launch.
Make 301 redirects between the old site to the new.
Import Your Blog from Your Original Website to Improve SEO
If a WordPress blog is on your current site, simply take the database and import it into the new site. Following these next steps will help improve SEO on your new site. But remember, when using key phrases, be wary of keyword-stuffing, which is when you reuse the keyword over and over, making your content difficult for readers to understand, and search engines will assume that your content is not credible.
For more information on how to use keywords and keyphrases, look here.
Criteria for (what the title of your page will show up as in a search result):

Use target keyphrase followed by the company name
Each page needs a unique title tag
Limit to 55 characters, including spaces

Criteria for meta descriptions (the short description of your page that pops up in a search result):

Incorporate target key phrase in the page description
Each page should be unique
Limit to 120 characters, including spaces

Include headers and subheaders (H1 and H2 tags, respectively) for each article. Headers need to include the target keyphrase for the article.
Use internal links between pages throughout the site. Whenever relevant, the links should include the target key phrase for the page it's linking to.
Include the target keyphrase whenever possible in the body text.
Create tags for your images. These tags should contain descriptions of the image and, whenever relevant, include a target keyword.
Analytics
Analytics requires special attention. Be sure to double-check this list because if anything is missed, you won't get all your data. Analytics can be added later, HOWEVER, you will not be able to gather historical reports.
Using Google Analytics to Keep Track of Reports
Set up Google Analytics for full access (Admin > User Management).
Gather your Google Analytics code and add it to your website's configuration record. Note: You will need to check how your website content managing system adds code.
Set up filters to exclude traffic from the IPs in your office. Note: You can Google your IP address for this info.
Set goals for each type of conversation. Configure a funnel on Google Analytics to keep track of this.
If needed, enable your site search, which will allow you to see how users search your site. Each site search features a "query parameter" that will vary depending on your content management system.
If applicable, enable e-commerce on Google Analytics. This way, you can keep track of users' purchases from your website.
Link Google Analytics to Google Search Console. Within Google Analytics, go to Admin > Property Settings. Link this to your accounts.
If your website has an SSL (Secure Sockets Layer), be sure "https" is selected for BOTH the View and the Property areas within the account.
Overall
Paying attention to your content, analytics, and SEO while launching a new website from your old one will add value to your business and decrease stress later when you need to research your best practices. Once you have these in order, you can focus more on design and finally marketing and launching your website. Good luck!
LEARN MORE SEO FROM YOUR EMAIL
SEO, YouTube, Pinterest and more sent out bi-weekly
Thank you for subscribing.
Something went wrong.