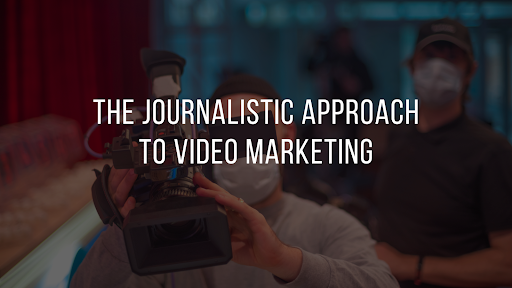 In an increasingly digital world, creating a strong video marketing strategy is an essential step that every small business must take to move up the ladder. Research shows that video will make up more than 82% of all internet traffic by the end of 2022. Today, journalists have created an efficient method for the video production process. Television production teams are responsible for quickly producing content that may have taken hours to write and condensing it in a manner that quickly captures viewers' attention. 
With an abundance of video marketing resources, platforms, and strategies, it can be difficult for businesses to discover the best approach for the video production process. So, where should small businesses look to create powerful videos?
Why Video Should Play a Key Role in Your Marketing Plan
According to recent statistics, video is quickly becoming consumers' preferred method of learning about products and services.
Check out this short clip to understand why producing video content is so important!
The Benefits of Using the "Lean & Mean" Approach to Video Marketing
Today, the production process for television news has adapted the "lean and mean" journalistic approach. This approach consists of productive collaboration and quickly getting to the heart of the story.
This technique has also been valuable for clients looking to maintain their budgets for marketing with little wriggle room.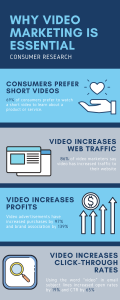 Additionally, it helps brands produce multiple videos within a short turnaround time.
For example, many businesses use up a large portion of their budget while producing one tell-all video explaining the brand's products or services.
The issue is that this can be extremely inefficient and costly for small businesses that are just beginning to expand their video library.
Instead, brands must spend extra time and effort when planning their video production. A day's work of video production for one video can instead be stretched into multiple short clips. By doing this, you can target more keywords on video platforms such as YouTube and ultimately increase the number of views you receive.
Finally, the fast-paced nature of the journalistic approach appeals to everyone. Research shows that the average adult's attention span is 8 seconds. To put this into perspective, a goldfish's attention span is 9 seconds!
With the rise of platforms such as TikTok and bite-sized content production, it's clear that shorter videos are in.
How to Plan the Video Production Process
The journalistic approach to video production breaks the process down into various parts.
The Overview Video

The overview serves as an inside view of the company. During the planning process, ask yourself what makes your business stand out from competitors.
Try to keep this part short and sweet. Ideally, it should be around 2 minutes long. You should also introduce spokespeople for your brand during this part of the process.

Introduce Key Values and Messages

The next step of the journalistic approach focuses on giving audiences an in-depth explanation of the brand's key messages.

Again, instead of creating one video containing all of your key messages, break them down into multiple clips. Additionally, be sure to briefly introduce these messages in the overview video.
Each key message should receive its own individual video that explains how the company incorporates these messages.

FAQs

The final part of the video production approach consists of addressing any frequently asked questions.
The most direct way to do this is by using spokespeople. The spokespeople in this video should be present in the rest of your videos for cohesive purposes. In addition, by presenting audiences with real people answering questions, you can help "humanize" your company; by injecting personality into your business, you can boost web traffic!
You should also design questions based on real customer feedback. Engage with your followers by posting polls on social media during the planning process, reviewing emails from customers, or analyzing public reviews left for your company on sites such as Google Reviews.
A strong FAQs video is clear and concise. Remember, the goal of this video is to answer questions and leave audiences with a better understanding of your company and the services you offer.
Conclusion
Today, the internal selling process has become significantly easier with the ability to increase ROI. 
During an age in which technology and media hold a lot of power, marketers know the importance of using videos to compete digitally; however, challenges including lack of resources, budgets, and experience may prevent businesses from creating powerful marketing videos. 
Whether you're a journalist or an individual seeking to increase brand recognition, the journalistic approach is an essential video marketing tool to use. The journalistic approach helps you break down the video production process into multiple steps that allow you to maximize your efficiency and create a competitive video library. By taking the time to carefully plan the video production process, you can turn strategy into action.
LEARN MORE SEO FROM YOUR EMAIL
SEO, YouTube, Pinterest and more sent out bi-weekly
Thank you for subscribing.
Something went wrong.