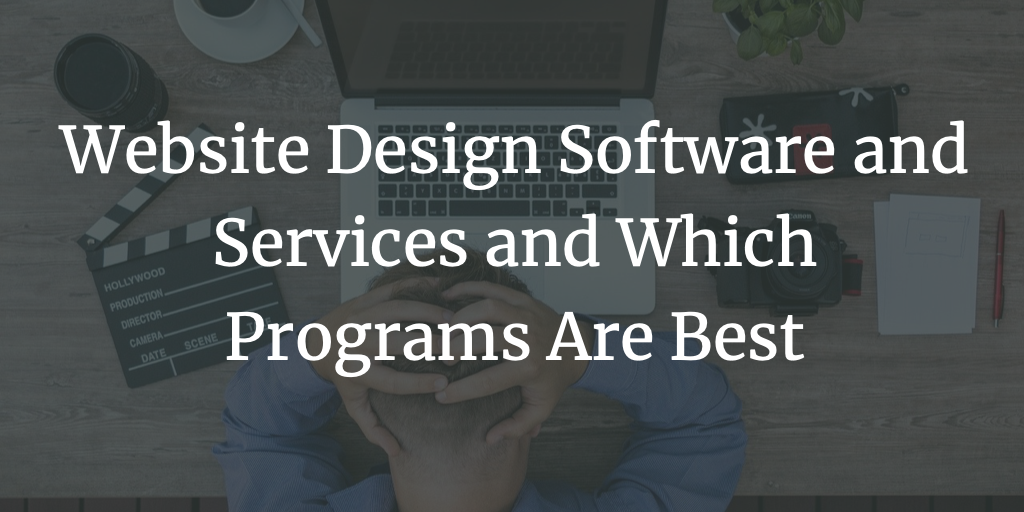 Years ago, the only ways to build a website was to either do it yourself or have a professional do everything for you. Today, the demand for easy, no-code website-building options are higher than ever in the website design industry. These factors have led different website design software and services to innovate the design industry. 
Intuitive website designs are important for a business of any size to succeed digitally, and many successful businesses share that factor in common. However, the way those websites were designed often come in various forms. The two most common services being used to create well-designed websites are website design software and website design services. 
Here are the main differences between website design software versus services:
Website Design Software:
What makes it different?

A website design software is a self-service platform where you create, monitor, and edit your website on your own. The software usually comes with templates that you can base your site off of, but it's open to changes so you can express your creativity. 
Who is it for?

These programs typically work well with smaller businesses and individual professionals. Software programs have more affordable plans and allow business owners to navigate the easy-to-use system how they like. These programs are more ideal for those with some website design experience, but it's not impossible for those who do not.
Average costs:

If you're working with a smaller budget for website design, these programs are for you. They are subscription-based with entry-level subscriptions typically costing around $10 a month. They can increase with the packages, ranging up to $40 a month, but you can always use the free trial programs to see if it's right for you.
Recommended program:

Wix: This program comes with a large selection of responsive templates and customizable tools. It's easy to use with plenty of tutorials and includes many tools to help business owners with little-to-no tech experience. For those with advanced tech experience, there's an option to create custom coding with Wix's Dev Mode. With Wix you can also create a free domain for your site. For an extra fee, you can create a completely custom domain to make your business stand out. Additionally, Wix has a "Logo Maker" program where you can design and customize your own logo if you don't have one for your business or brand already.
Website Design Service:
What makes it different?

These are services that do most of the work for you. Design services create, maintain, and build the website for you and typically offer more services. They can also create content and strategize your SEO or branding efforts. It mainly takes all of the guesswork out of the equation and puts it into the hands of professionals. 

Who is it for?

Design services are commonly used with midsize/ large businesses or any business with a larger budget. It is typically more expensive given the work that goes into it from professionals, but there is a better chance for a stronger

online presence for your business.

Average costs:

These prices vary on the scope of the work that goes into the website. Typically, a basic website can cost about a thousand dollars and can climb with the design or element features. Many website design services offer price quotes and are important to obtain before making a final decision.

Recommended program:

Hibu: With their customizable pricing plans and numerous templates, this program is specifically geared for small businesses. When you design a website with Hibu, the company collaborates with you to achieve your desired design. Once you've determined the layout of your appearance, the company constructs the website for you. They also help kickstart your marketing efforts by creating social media accounts or simply by advancing your brand.

Factors to consider when determining costs:
It's important to make sure that the website design program caters to all of your needs. When considering which program to use and comparing costs, be sure to consider the following things before deciding:
Do you have access to backgrounds and images needed for the website content?           

Although it might be made from a certain template, it's important to include your own look to it as well. 

Does it allow you to choose themes catered to your industry? 

E-commerce, blogs, and business sites all require different styles to make them effective.

Is there a preview of what your website is going to look like?

Many programs include a glimpse of the determined page so you can navigate it and decide if it's for you. 
Elements of usability to consider (the most important factor of a website):
Web design software should be easy to use, so usability is one of the most important elements of a website design software or service. If a website service or software program turns the monitoring to you, it should be easy to understand. Read here for more tips on responsive web design and why it's crucial for your website. 
Demos and startup wizards: the best programs usually have instructions on how to use/navigate the website quickly and effectively. 

Look for programs with a variety of website templates and design tools. Web templates should be usable for any desktop, mobile device, or tablet. This way, the users of the website can access it at any time on any device. 

Storage: If your website is photo or video-heavy, you should ensure the program can hold all of the content. E-commerce stores are an example of those who should consider plans that allow for a high number of products or pages.

Analytics: It's important for business owners to have access to analytics to see if the program is working for their marketing strategies or not. Every website program should give you the ability to advance your marketing and SEO efforts, and it's important to see the results. 
There are numerous factors that go into website design. Whether it's starting from the beginning with what type of program to use, the cost or the usability, these factors are important to consider. Website design programs are here to help you achieve the best digital presence you can, you just have to find the most compatible one. 
LEARN MORE SEO FROM YOUR EMAIL
SEO, YouTube, Pinterest and more sent out bi-weekly
Thank you for subscribing.
Something went wrong.