The uncertainty the coronavirus pandemic has the entire world feeling is particularly prominent in businesses, the economy, and even SEO. We've watched the stock market plummet, online profits decrease, and among all of this, coronavirus is impacting SEO.
The decrease in market budgets and ad spend has drastically impacted businesses and marketers that rely on it.
Ad spend refers to the amount a business is willing to spend on ads. Recently, we have seen Google and Facebook lose revenue through ad spend, specifically travel ads. This has led to marketers and media buyers re-evaluating their advertising plans.
Needham analysts Laura Martin and Dan Medina said there is a lower spending rate in travel, consumer goods, and entertainment. These rates account for 30-45% of Facebook's total revenue. This impact could bring serious damage to the SEO companies reliant on ad spending and revenue.
There are also issues on other websites, such as YouTube, that is already impacted by demonetization. Many changes in advertising recently has damaged the companies, and this pandemic is not helping.
There are other issues of concern for businesses and corporations with this crisis, but it's important to realize how important of a role SEO plays right now as well.
Many companies are worried about their current inventory declining while ads continue to run.
There are many economic concerns within the country as we watch the pandemic take over our lives for the time being. There are many ways the coronavirus is impacting SEO and ad budgets.
"Key products will go out of stock so [Google Search and Shopping budgets] have been cut by 40% in the UK and Europe this month in anticipation," said Scott Wright, senior PPC consultant at e-commerce consultancy and agency, Vervaunt.
Ad-supported tech giants such as Facebook and Google parent company Alphabet reported results in late April and anticipated negative impacts of the virus in the second quarter.
So, what does this all mean? Some businesses have put a full stop on all of their digital ad budgets. Also, clients of SEO and ad companies are putting a pause on their spending due to supply and demand concerns. Many clients even expect to keep advertising spending completely paused until gatherings can resume again.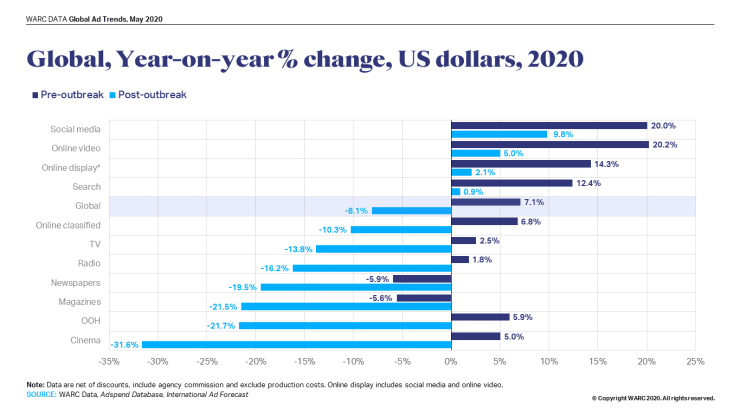 This chart shows the projected change in global media spend for 2020 before and after the outbreak of the coronavirus pandemic.
A decrease in PPC and ad spend will mean more organic SEO competition.
Not every company finds budget-cutting as the answer. Everything is moving to remote and digital, such as many workplaces and schools, and this can be a benefit for your SEO strategies. Medium, for example, is a platform that has seen an increase in traffic since social distancing began.
"We are seeing record-high traffic at Medium, and it's clear the appetite for reliable, up-to-date, and credible information is huge right now," Siobhan O'Connor, VP and editorial for Medium, said in an email.
As coronavirus pandemic pushes more grocery shoppers online, stores struggle to keep up with demand. Only about 3% or 4% of grocery spending in the U.S. was online before the pandemic, but that's surged to 10% to 15%, according to research by consulting firm Bain & Company. This trend is likely to remain, many customers have downloaded apps, tried new services, and discovered their conveniences.
With this in mind, businesses should look to raise digital budgets rather than pull from them.

This chart shows forecast growth in global advertising spend by sector for 2020, pre and post the coronavirus pandemic.
Expectations are different right now than they would typically be pre-Covid-19. Consumers and potential leads are more likely than ever to check your business/services out online.
It's time to reevaluate your marketing and media spends.
A business' advertising, marketing campaigns and promotional practices will be a core focus of its ability to thrive in the future.
Despite the heavy projected fall in ad spend, the declines are set to be less steep than those seen during the recession of 2008-2009, where the market reduced by 12.7%, or $60.5 billion. While the economy will eventually rise back up in time, there are ways to reduce the damage by putting in critical thought to your plans and only cutting necessary parts of your budgets.
We've been talking about the shifting online marketing landscape for a long time now. The SEO world is always changing, but that's actually a key advantage for Seattle Web Search clients: Because we stay on top of those changes, your company's SEO strategy does, too.
LEARN MORE SEO FROM YOUR EMAIL
SEO, YouTube, Pinterest and more sent out bi-weekly
Thank you for subscribing.
Something went wrong.