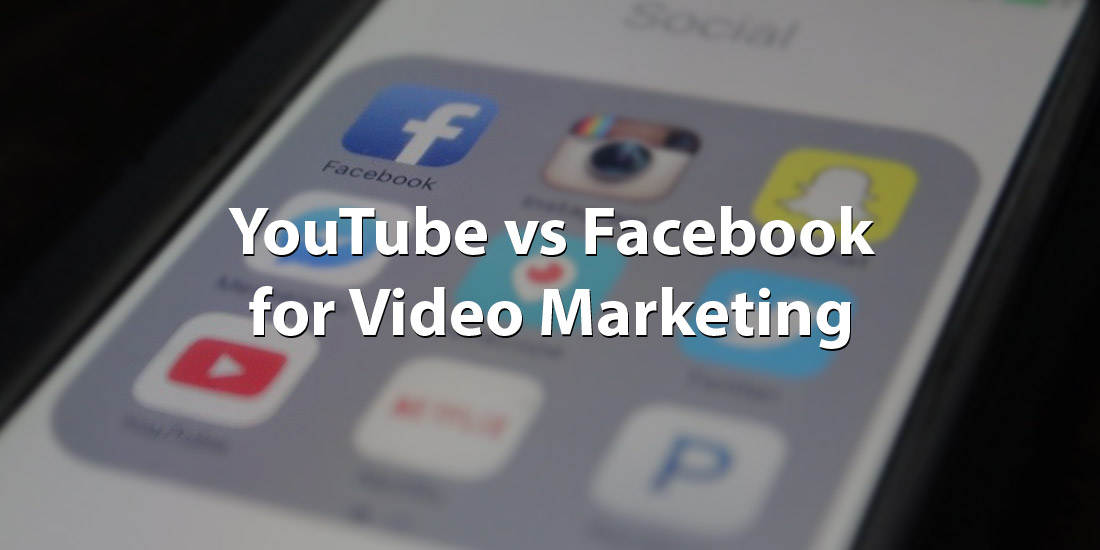 Need to create videos for your business? Trying to determine how your videos gain leverage on Facebook?
Facebook compared to YouTube
Many people can work in YouTube well. And just as many work with Facebook's videos just as well. Most people cannot work on them both equally since each platform holds a special use case. People tend to watch YouTube when they need to replace television entertainment or utilize it for how-to videos. Facebook videos, however, show up in someone's news feed and interrupts people as they work within the platform.
Anytime you create a video, you must determine how this video is being watch and the circumstances others may watch it in. Once you have determined how people watch, select your platform and make this the base for all videos.
Some major differences between the two platforms are that Facebook shows videos that are easier to share, at least initially, but YouTube will receive more views long term because they have channels. Additionally, Facebook will count a view as such after 3 seconds while YouTube requires a 30 second view to count.
Facebook pushes exposure through the use of engagement. As you post videos on Facebook, the more people who share, comment, and like, the more who will see the video in their feed. This visibility grows as more share your video with others thus continuing the cycle. However, all of this depends on if his video receives immediate engagement. If no engagement happens with users, a video can plateau and receive no viewership.
If you are getting started on making videos for Facebook you can build engagement by using video subtitles. Most people do not use sound when watching videos on Facebook. Many users opt to leave their volume off or (as the newest feature shows) shut it off when they open the app. In order to continue to send messages to viewers, video subtitles become necessary. Facebook reported that including captions in a video increases the chances of viewing by 12%.
Another feature both offer is live streaming. If you vlog, you could use either Facebook or YouTube. Either works fine. A smoother way to do this would be to complete it on Facebook love first then to upload it later on another site like YouTube. Facebook will only allow to be live from their site and none others which is why you must go live to other sites like YouTube or Periscope, you need multiple phones or computers. Furthermore, YouTube only allows you to live stream once you have at least 1,000 subscribers making Facebook the more accessible option.
Should I upload my video to Facebook or YouTube?
You should upload to both.
If you are questioning whether Facebook would be the only place to go for marketing, the answer is no. And it is no for two simple reasons.
Once a video is made, it takes little effort to place it in YouTube or other places.
Since Facebook's beginnings, it is never wise to place all of your efforts or faith in one location.
Currently, Facebook pushes its video and live video additions. In the future, it may not be their emphasis. Never place anything only on Facebook especially with video. However, regarding live video, Facebook remains a great place to start because people will view items more quickly and likely remain on this platform. Additionally, you can schedule your live broadcasts and advertise to people when they can tune in.
Facebook is great for determining your style and all that works for you and your business. As you become more comfortable with your preferences and programming, you can move onto Periscope or YouTube Live, etc.
If you are getting started on YouTube one of the easiest things you can do to get more subscribers is to create an auto subscribe link. You can use link to get your audience to automatically subscribe to your YouTube channel in video descriptions, emails, social media, websites and blogs.
Creating a Video Marketing Strategy
One of the best ways to create videos without taking up a large amount of time is to create a theme and stick with it for a series. It gives you a purpose for your videos and will keep people coming back for more. Also, start small – determine a schedule that you can manage. If you can only complete one a week, stick with it. Typically, your videos should last between three to five minutes and it would be wise to debut them live on Facebook. As you finish a series look for feedback and make adjustments as necessary for your next series.
After you finish each post, you can go back and make small edits then resubmit them. Generally, you should complete any changes and repost on other platforms within 24 hours for authenticity. You can add items like subtitles, transitions, music, and other images to make the video more interesting to those not watching it live. Additionally, you can turn the video into a transcript and post it as a blog. Basically, this is taking that original three to five-minute video and making it live in several different places.
One way to build these videos is to note any observations you make in relation to your topic. When you have the chance to create your video, you have the notes and can just start. You do not need to set them up nor do you need anyone else. When you are done, you can interact with your followers via comments afterwards. This brings people together after you have completed your video.
If you are too busy to make your own videos, you are making your overall marketing efforts much harder.
83% of video marketers say video helps them with lead generation.
87% of video marketers say video has increased traffic to their website.
80% of video marketers say video has directly helped increase sales.
95% of video marketers plan to increase or maintain video spend in 2020.
On top of this video has actually decreased in usage for small businesses on average. In 2016 about 15% of businesses were on average using video, in 2019 it had gone down to 9%. Despite video usage growing dramatically and in popularity. This means that small businesses are missing out on this marketing trend. All our SEO strategies center on the fact that video is worth a lot more than text because YouTube is owned by Google, meaning you get a bonus for using their platform. Learn more about how video can transform your businesses marketing strategy here.
Is there Equipment Required for Video?
One problem that could occur when you go live is choppy internet. When you are at home and know your internet capabilities, it's easy. But, if you travel, your hotel Wi-Fi is not guaranteed and that makes it tough. Instead, you can record the show early and upload later if necessary. Or if it is on your phone, you can use your data.
While you do not need to push for studio quality work, if you can, purchase some very simple lighting, audio, or video equipment. You can purchase a basic microphone that works great and keeps out the background noise. Also, external fold-up LED lights assist for quick and easy lighting. If you have an older computer or phone, you will want to consider upgrading. Finally, consider if you are more comfortable with a computer and sitting or moving with a phone. Spend some time trying them out to determine your comfort level.
Short-Form Videos are Popular on Social Media and Help Build Engagement
A solid plan for your social media engagement and strategy helps ensure every engagement you have on social media is not only useful to the person you're talking to, but also beneficial to your business as well. You should be able to clearly articulate what your followers gain from interacting with your brand on social. Often short videos have an easier time doing this because you don't have to worry as much about loosing their attention span.
Short videos tend to perform best on social media. We're talking 2-3 minutes tops on Facebook and Twitter. Instagram only allows videos of up to one minute, though the old upper limit of 15 seconds is still often a good length to aim for.
If you are looking for quick videos, you have a few options. Snapchat was popular, but is losing ground to Instagram Stories. Instagram is nicer since more users tend to be there already and the interface is more user friendly. Facebook Stories are another avenue, but if you are using their Live feature, you may not want to implement more methods.
Whenever you create a new idea, you need to decide if it will fall under a story, a day, a longer video, or a multi-video series. Then determine which platform(s) it will work under best.
Short-form videos are a new form of blogging. They hold similar style, concept, cadence, and point as blogs. You can even include a comments section, but they are not as public as blogs can be. These similarities remain as a difference between what blogging was and where short-form video is headed.
Remember though that these should remain separate entities. You have to ask if it is really good to have the same content, bit-by-bit, on separate channels. Short-form videos are like a gateway to live not long-form though. Remember that long-form video is more like a show. Facebook Live and Stories are very similar, but one is broken into clips while the other can be longer. Remember both forms stay less formal.
Whatever angle you take with Facebook video, it holds many needs and is a great place to start for any business looking to push advertising.
LEARN MORE SEO FROM YOUR EMAIL
SEO, YouTube, Pinterest and more sent out bi-weekly
Thank you for subscribing.
Something went wrong.