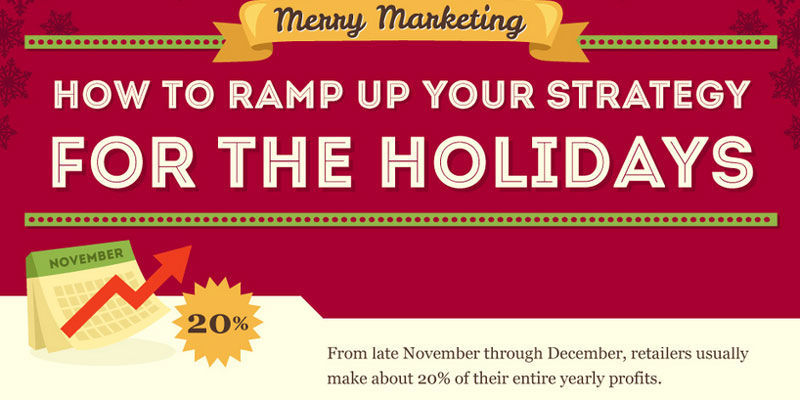 Businesses that fail to maximize the holiday shopping season miss a huge revenue opportunity. Brands that invest only a small portion of their budget on timely, seasonal ads will flounder; while competitors with bigger budgets win the wallets of consumers. Having good SEO can make a huge difference between you and the competition, but that's not the only way to drum up sales around the holidays. Here are some seasonal marketing tips that we hope will help improve your strategy for the upcoming holiday season.
During the holidays, companies have a unique opportunity to capture loads of new customers.
Holiday Marketing Tip #1: Aggressively target local audiences
"There's a lot that businesses can do on Facebook to get more sales during the holidays. The easiest thing for brick-and-mortar businesses is to target audiences by using the Local Awareness feature. This allows you to target ads to people only when they're physically near your business. You can even give people directions to your location right on their phones. Another way is to use Custom Audiences to find your best customers on Facebook, and then use Lookalike Audiences to find similar people." –Mari Smith, Facebook Marketing Thought Leader
While the pandemic has set major limitations on how customers will be shopping, targeting your locale is still one of the best ways to maximize profits in the holiday season. One study has noted that 66% of Americans plan to shop more with local retailers this year. For small businesses, this is a great opportunity to appeal to those in your area who are more averse to spending at big chain conglomerates.
With the number of people gearing up to take advantage of cyber sales this year, it has never been a better time to improve your online presence to garner more sales profits (not to mention conversions). Plus, according to the National Retail Federation, holiday sales represent about 20 percent of annual retail sales each year, with some retailers like hobby, toy, and games stores totaling 30 percent of sales. That being said, we need to again underscore the importance of this one. Missing out on the influx of sales during the holiday season could mean the difference between a positive or negative yearly profit margin.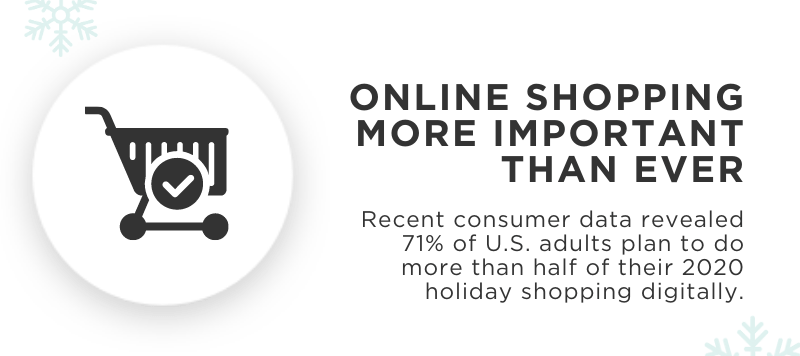 A lot of success during the holiday season depends on preparation and research conducted in the months leading up to it.
Indeed, one of the secrets of holiday success is spending a disproportionate amount of your marketing budget on festive advertising. Brands should plan to prepare for the holidays early, and celebrate them sooner. Also, make sure to accommodate such dramatic growth in market opportunity.
Drive that local cheer:
Once again, we want to highlight the importance of targeting local audiences. The holiday experience will differ from New York to San Francisco, and your messaging should reflect that. Leverage geo-targeting tools to find out where your customer is from. Then, you can create content they will relate to and messaging that resonates with a personalized brand experience.
The key to the holidays is user-generated content:
Most people today are programmed to ignore advertisements, so how do you connect with audiences who're already inundated with ads? You make them the hero. Businesses that can actively leverage user-generated content are the ones that will drive deeper connections with fans.  Showcasing authentic photos of your audience drives your intended message while encouraging a deeper, emotional interest from new and loyal fans alike. Relate to your audience through real people, in real moments, using your product and services.
Increase advertising promotions in the weeks leading up to the shopping season:
Early ad promotion gives you ample opportunity to try out new tactics, such as unique copy and images, to learn how consumers will react. Follow our carefully curated list of tips and best practices to help ensure maximum success in your marketing campaign this holiday season by:

Testing different creative strategies
Planning an efficient holiday budget for maximum sales opportunity
Optimizing your mobile experience
Getting to know and engaging with your audience segments

Holiday Marketing Tip #3: Ramp up spending, quick. Double your ad spend immediately once you identify the creatives that engage customers.
To guarantee maximum efficiency, have a marketing plan established for every holiday your customers celebrate— Christmas, Valentine's Day, Thanksgiving, and more. Starting the celebration early gives you the chance to have fun with customers, outshine the competition, and dramatically increase sales.
Holiday Marketing Tip #4: Build engagement and establish trust by reaching out directly to your audience.
The best way to ensure you're providing customers with what they want is simpler than you think… just ask! By reaching out to your existing customer base, you're letting them know you care about their experience. This will not only serve to rectify negative experiences customers may have had but will show all consumers that you care about their feedback. Reach out to your best customers (you can do this through email newsletters, social media posts, etc.), the people who support you all year round, and ask how they plan to shop for the holidays.
Forget about what you think the holidays are about. Discovering your customer's focus will help you determine with much more certainty what they're looking for when shopping with you. Doing this will build engagement and increase loyalty with existing customers, while also showing prospective consumers you're dedicated to transparency. Click here for some tips from Forbes.
Conclusion
All in all, the holiday season continues to hold importance—especially for small businesses—simply because much of the year's profit margin relies on how well it goes. That being said, there's undeniably an immense amount of pressure riding on the last few months of the year. We hope these tips help you revamp your campaign so your business can reach maximum profit efficiency this holiday season. Let us know your favorite tips in the comments!
LEARN MORE SEO FROM YOUR EMAIL
SEO, YouTube, Pinterest and more sent out bi-weekly
Thank you for subscribing.
Something went wrong.