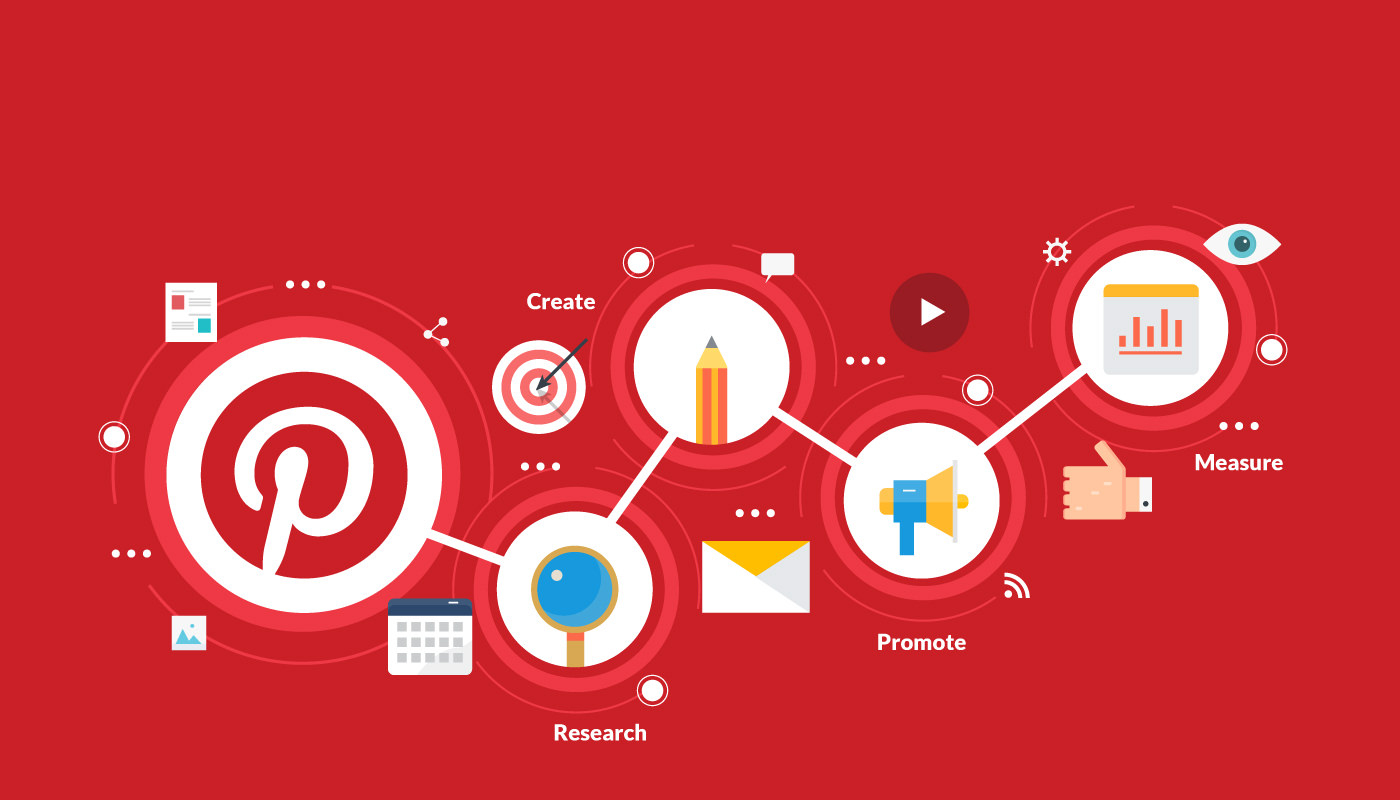 If you don't have a Pinterest Business Account, you're missing out on an extremely efficient marketing opportunity. Pinterest, a platform built for sharing and aggregating content, has been avoided by many because of its majority-female following. However, more and more people are joining as they realize the natural efficacy and lack of competition it offers. Here are some of the benefits of the site, along with some tips and tricks which will enable you to maximize the efficiency of your Pinterest marketing campaign.
Benefit from Pinterest Search Optimization
It's important to remember that Pinterest is, above all else, a visual search engine. It has an algorithm, similar to Google, and processes over 2 billion searches a month. This algorithm is responsible for prioritizing and ranking pins based on their quality; in other words, what you see on your feed is optimized to show the best pins first, rather than the newest. This is great news for new marketers.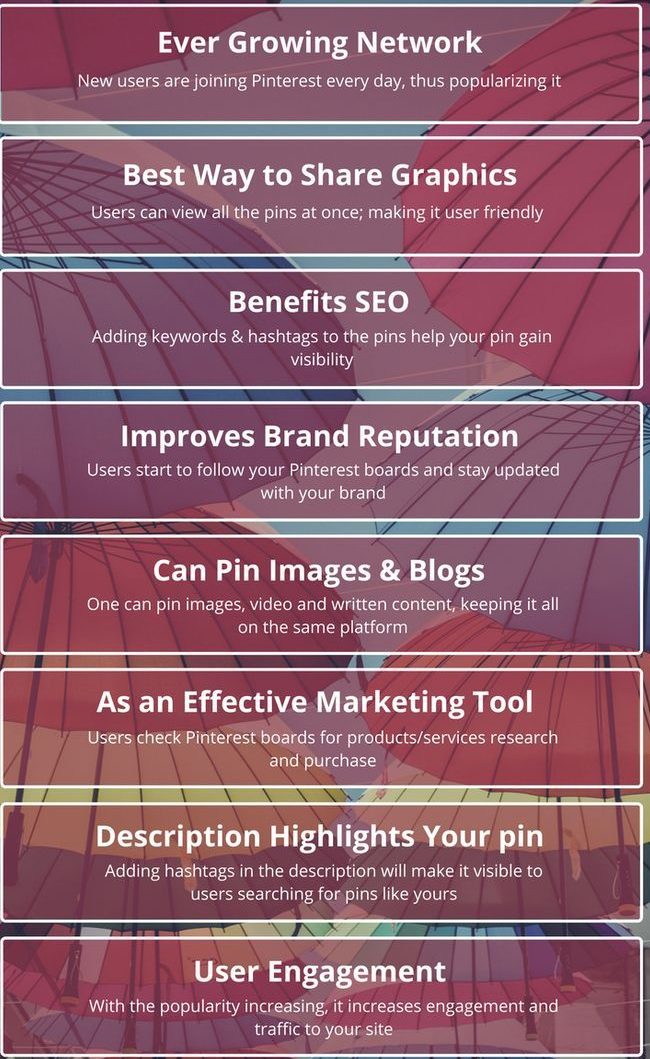 Since you're only competing with companies in your niche, you don't need tons of content to make a difference! Plus, unlike competitors, it's not owned by a major tech company, so Pinterest is able to play nice with everyone. Consequently, you are able to more freely garner SEO in different ways; for example, Pinterest uses "do-follow" links, which means Google can track where users go once they navigate off the site.
Set up a Pinterest Business Account
To get the most out of the platform, you'll need to create a Pinterest Business Account. This type of account makes marketing easy by providing helpful tools to educate and optimize content, aiding you in creating and promoting ads, and presenting a metrics page that allows you to track the success of your campaign. You'll also be able to increase brand awareness, as your profile picture will be your brand's logo. And, in addition to the top-notch tools already available, Pinterest is always working on new things, so there's a constant promise of newer and more sophisticated tools and aids to come.
One thing to make note of is that you will have to verify your site before you're able to get a Business Account. If you're not familiar with web design, you may need to get some help on this, as you will need to add a metatag into your settings. Although this does require a little extra work, it will benefit you in the end, as you will gain more trust and authority from your audience once they see your site is verified. You'll also be able to create a custom shortened URL to track specifically how much of your traffic is coming from Pinterest.
Find Trending Content with Pinterest 100
It's now even easier to stay up to date with what's popular, as 2020 saw the premiere of " Pinterest 100 ", an annual report designed to help both brands and users discover new trends. The site features 10 different themes that have increased in popularity over the past year, along with the percent increase of searches. For example, one of the hot topics of this year is Responsible Travel. Plus, once you click into a category, you're able to see different trends branching off from there, such as "Travel Stories", which has seen a 125% increase in popularity this year. This is an amazing tool for marketers, as it's pertinent to pin relevant content if you want to expand your audience.
Promote Your Products with Rich Pins
One of the most helpful tools for businesses on Pinterest is the ability to create "Rich Pins". Rich Pins are a type of organic Pin that automatically sync information from your website to your Pins. You can easily identify these pins by the extra information above and below the image on closeup view, along with the bold title in your feed. This feature is extremely advantageous for marketing as it both boosts engagement as well as providing an opportunity for you to attach a direct link to your site. In order to fully take advantage of these, it's important to remember that they are typically interactive maps, or supply tons of valuable, traffic-generating info, or images of products.
If you're using a Rich Pin to promote a product, the pin will also automatically include live updates on stock and prices. Alternatively, you can use it for article pins, which promote your top blog posts and direct users to your blog. When creating Rich Pins, remember to include a larger title with your brand's logo, along with a description and a call to action with a direct link to your site. This tool has proven exceptionally effective, with brands using it seeing an 82% jump in their re-pin/pin ratio.
Optimize Your Pinterest Profile with High-Quality Content
By ensuring your pins and boards are optimized for maximum visibility, you will help attract more quality leads. In order to achieve this, you need to know what qualifies as "high quality" in the Pinterest world. Because Pinterest is 90% visual, it's important to post clear, high-resolution images. Additionally, since 85% of Pinterest usage now occurs on mobile apps, it has become more popular to follow a 2:3 ratio, with an optimal size of 600×900 pixels, as vertically longer images tend to be more visually attractive in this view.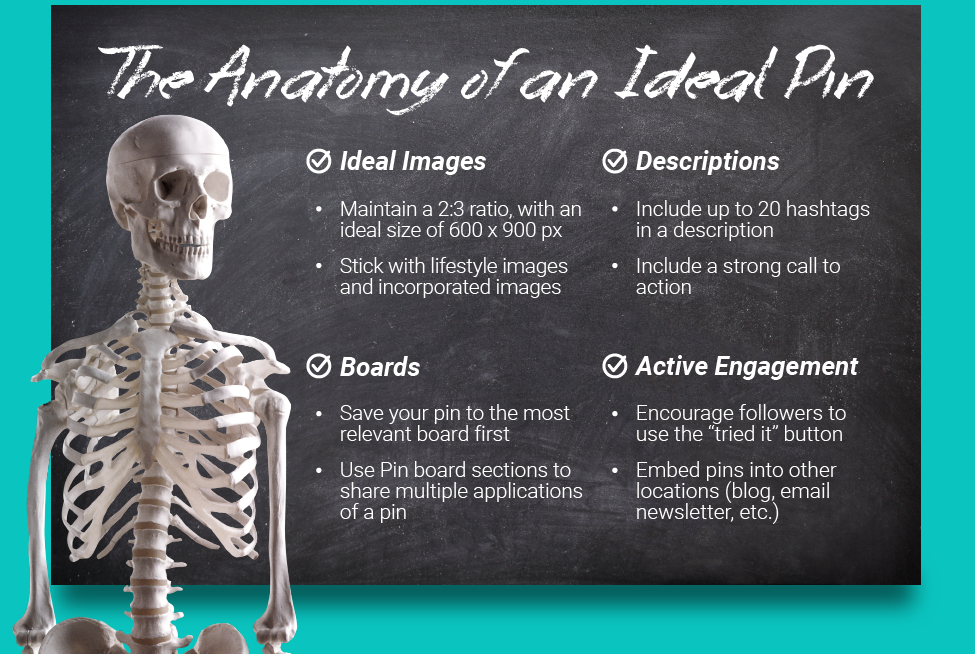 Lighter, less saturated images are also ideal, being re-pinned around 20x more than their darker counterparts. Instructographs are another genre of pins that perform extremely well; these pins will attract attention simply because of their DIY nature, as it's the 2nd most popular category. Use this to your advantage by packing them with valuable information to establish yourself as an expert.
Once you've got the basics down, it's important to keep focused on the type of content you want to produce. Above all else, the content you share should be unique, provide value, and establish you as an expert. As aforementioned, Pinterest is very adamant about putting the "best" or freshest content first, not the newest. This means that if you produce content the platform hasn't seen before, or present information in a unique way, it's a lot more likely to perform well.
Another way to get maximum visibility out of your pins is by posting at the most optimal times. Pinterest has revealed that the most popular times, on average are 2pm-4pm EST & 8pm-1am EST, with Saturday morning being the absolute best time of the week to pin. Once you've gotten started and have access to your own metrics, monitor individual optimal posting times specific to your audience.
Post a Variety of Content Relevant to Your Audience
When deciding what you should post, there are a few things you'll need to keep in mind. First of all, don't only post product images. While it is a very effective way to gain conversions, it's really important not to come off too sales-y. Remember that although 89% of users use the site for purchase inspiration, that's not the only reason people log on, and only posting images of your products can be a turn off for many potential customers. Try adding some boards containing related content; even though you're not promoting your own products, what you're pinning/re-pinning should still be valuable to your audience. You should also always include a link in the description of your pins.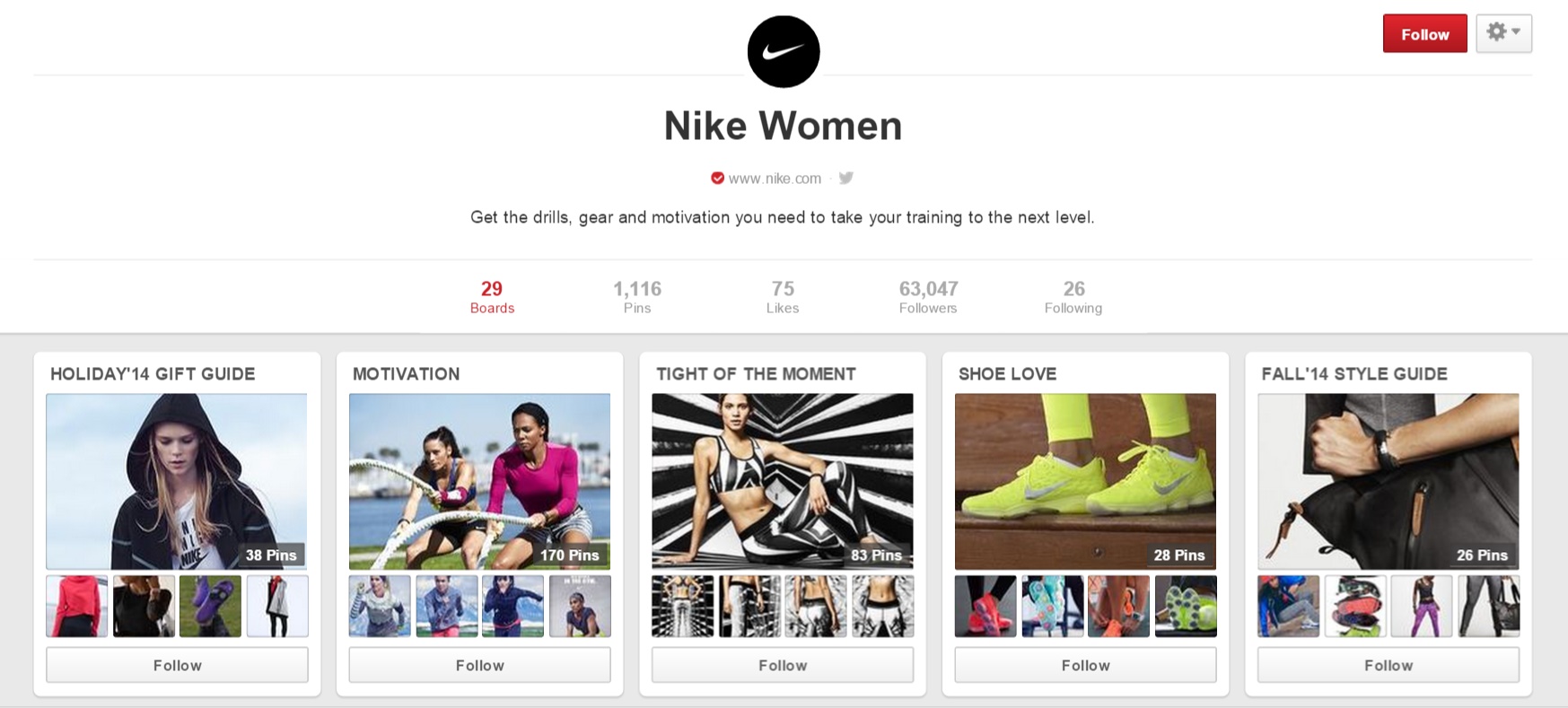 Nike has done an exemplary job of diversifying content with boards such as "Shoe Love", "Tight of the Moment", and one just for "Motivation. While they're promoting their own products on each board, it also gives users a chance to see relevant images and trends, such as the season. Posting other types of content can also be helpful because over 40% of user engagement on Pinterest is based on related pins. Another benefit of having seasonal or relevant boards is they create a sense of urgency. People's searches change at different times of the year, for example, holiday decor/outfits. Hopping onto these trends is a super simple way to further increase your reach.
Increasing Engagement and Promoting Content
Content promotion strategies and levels of engagement are two factors that will play heavily into the success of your campaign. If you employ the right strategy, you're that much closer to getting results out of your Pinterest campaign. In addition to continuous engagement with followers, developing a consistent posting schedule on the platform can make all the difference.
Engage With Your Followers to Build Relationships
To build up your engagement, start by following boards, repinning, & leaving thoughtful comments in order to build relationships and gain followers. Comment on others' pins, such as your followers or popular brands with an audience relevant to your industry. Then, once you've engaged with them long enough, try to build your relationship even further; ask them to post to your board or vice versa, or just offer ideas that show an eagerness to collaborate.
Pinterest's Open Board feature makes this simple; just add names and/or emails to a board and those people will be able to contribute to it. Another way to expand your reach is by mining the followers you already have. Try including some of your most popular pins in your newsletter, with a link to see more. It's also beneficial to connect your other socials to your Pinterest by including the links in your pins. Plus, try adding a hovering "Pin It" button to images on your website or phone app through Pinterest directly. If you use WordPress, just download the Pinterest Pin It plugin and you're ready to go!
Remain Consistent by Implementing a Posting Schedule
Another crucial element of a successful Pinterest campaign is a consistent posting schedule. While Pinterest has recommended posting 5-25 times throughout the day, it's okay to start small while you amass your content. Because consistency is so important, it's advisable to plan ahead of time so your best stuff isn't going out simultaneously. There are many online platforms you can utilize to organize and set up a schedule (our favorite is Tailwind ) so you're not spending your entire day on the site trying to figure out what to pin. Additionally, Pinterest has a "Secret Board" feature, where you can save pins privately, then grab from later.
Pinterest SEO and Tracking Metrics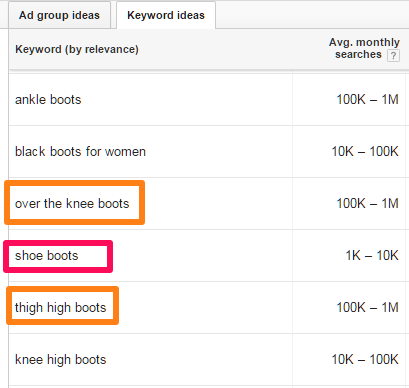 When it comes to SEO, Pinterest is no exception, in that it's necessary to perform keyword research prior to posting. This research should be conducted on Pinterest, as it is the search engine that will be presenting your content. The site will help you out by suggesting popular searches as you type keywords in the search bar. When conducting your research, try including related terms that your pin is relevant to as well.
For example, if you're looking to pin a new pair of boots, try including terms like "black" or "thigh-high". In doing this, you could be tapping into a much larger audience than if you simply targeted the keyword "boots". It's also beneficial to use long-tailed keywords in your titles to reach a more specific audience. Once you've determined the appropriate keywords for your post, include them in pin titles, descriptions, and image file names. However, while you may want to insert as many key phrases as possible, beware of information dumping; you want to make your description readable, as opposed to a smorgasbord of random words thrown together in an attempt to get the most visibility.
Review and Revise Your Campaign with Pinterest Analytics
Once you've gotten your account started, head over to Pinterest Analytics to monitor your campaign. Pinterest Analytics is one of the most beneficial tools on the site for marketers. It lets you see loads of information that will help you track which of your campaign strategies have been successful. Some things you can expect to see are your most liked pins, audience demographics, your most effective ads, and more.
Additionally, you'll be able to see how adding the pin it button to your site can lead to referral traffic. Having this information will help you make improvements to your campaign. This is also helpful for growing your reach, as you will be implementing whatever tactics work best for you. Though these analytics can be invaluable, it's just as important to decide which metrics matter most to your campaign. Try setting goals for yourself at the beginning (e.g. 10% traffic increase in 1 month) in order to supplement the information you get from your analytics. If you maintain a clear goal, these metrics will lead you on the right path for your individual campaign.
Conclusion
Pinterest is still a relatively untapped resource that can do wonders for your marketing campaign. Along with the plethora of tools already available for Business Account holders, such as Analytics and Rich Pins, Pinterest is also always searching for new innovative ideas to help marketers out. With the ease of less competitive advertising and continuous opportunities to reach ready-to-buy audiences, try for your own success now.
For more tips and tricks on Pinterest, check out our series Pinterest SEO series: https://seattlewebsearch.com/series/pinterest-seo/
LEARN MORE SEO FROM YOUR EMAIL
SEO, YouTube, Pinterest and more sent out bi-weekly
Thank you for subscribing.
Something went wrong.